Which one is the best option: indoor cycling vs treadmill? Can't take a solid decision? Both of them are designed for indoor using and they are similar in many ways. But still, they are far away by few aspects.
Well, here the difference and similarities between the treadmill and indoor biking will capable you to make the right choice for you.
Treadmill and In. Cycling: Definition
A treadmill is a special type of indoor machine that is largely used for running as well as the purpose of the exercise.
Indoor cycling means the stationary bike or exercise bike to ride or spin at home or the gym center.
Indoor Cycling vs Treadmill: All Facts You Need to Know
What are the pros and cons of indoor biking and treadmill? What are the differences and commons between those two? Alright, all the facts of them are listed in this write for better understanding. So, let's figure it out together.
Differences
1. Calorie Loosing
Calory burning is a core fact in the comparison of indoor running machines vs bikes.
For an indoor bike, it can be burned about 400-700 calories in an hour. But on the view of a treadmill, it is about 600-800 calories. To burn more calories, the treadmill is far effective. Because the running machine allows you to run and walk at a fast or slow speed. And that workout is involving with all of your body parts. But in the bike, the image is totally different. Here you need to seat on your bike and that's why your body will find a supporting object. As a result, maximum parts of the body are absent from the exercise and that causes fewer calories to burn.
Winner: Treadmill
2. Exercise Benefits
Both of those are a great form of exercise as well as a cardio workout. And of course, those are beneficial for your body.
Cycling or spinning, you can earn so many benefits for your body. As a leg job is much required here, leg muscle can be easily formed. Additionally, abs by cycling can be happened by long time practice. So it's a good form of exercise and body strength increasing.
T.mill is much hard in this term. It takes all of your body parts for performing. Running or walking in here is a good practice of exercise. And it brings advantages for your entire body. Legs, body, even shoulder can be strengthened by riding regularly. Many users hold the handlebar to make their exercise less effort. And it isn't expected.
So, in the workout factor, both of the two have their attributes.
Winner: Tie
3. Risk of Injuries
Safety or injury concern is another vital difference you should care about most. None of them are free from the risk of injuries.
For stationary cycling, the risk of injuries is less. But, as your bike provides you a seat during work, by sitting there daily you may face butt pain, knee and shoulder pain.
But riding on TM can bring more danger. Important body joints are involved with it. As it needs more intensity and balancing capability, by mistake you can do the relationship with serious injuries. By falling on the machine and poor leg balancing, ankle or leg injuries, body injuries, etc long-suffering danger can happen.
Winner: In. Cycling
4. Weight Decreasing
If weight loss will be your destination then it is essential to know which one is better to do weight decreasing.
As I mentioned previously, treadmills do a better job than indoor cycling for losing calories, so it's now known to you which one will be your company. The more calories you can burn, the more quickly you can decrease your weight. So, for a fat belly or body, rowing machines are the ideal option to choose.
Winner: Treadmill
5. Health Advantages
Being part of the exercise, both have health benefits.
They help keep your body healthy and diseases free. By doing the job, they boost the whole body process properly. Because of full-body movement, that walking machine can reduce the possibility of some serious diseases like hypertension, heart problem, diabetes, and so on.
Winner: Treadmill
6. Space Requiring
Though space requirement is a silly point, it's good to know.
To store or setting up them, it needs a fixed area or space in your room. Usually, the TM machine requires more area than the other. So, if you are living in a tight space room or want to save more space, then In. cycling will be your option.
Winner: Indoor Cycling
7. Durability of the Machine
For a long-lasting purpose, the difference of durability should have in your mind.
Don't worry. Both are durable in their design. But the fact is, treadmills have to bear hard practice like speedy running or something. For this, there is a matter of weight-bearing on the machine. For biking, you just need to spin by sitting and there is no huge jumping on it. In this matter, we can call the indoor biking machine more durable.
Winner: In. Cycling
8. Intensity and Multitasking
For intensity and multitasking, the two are different from each other.
T.mill confirms more intensity as it offers variant cardio workouts like running, walking, or else. The hard and soft workouts can be determined by the lower or higher the power. But it offers fewer multitasks.
On another hand, stationary cycling has more multitasking and less intensity character.
Winner: Treadmill
9. Cost Facts
There exist a few costing issues between them.
According to type and size, stationary bikes are less expensive than treadmills. You need to pay extra bucks for the T mills. Further, as TM is less durable, you have to prepare for bearing the servicing cost.
Winner: Indoor Cycling
Similarities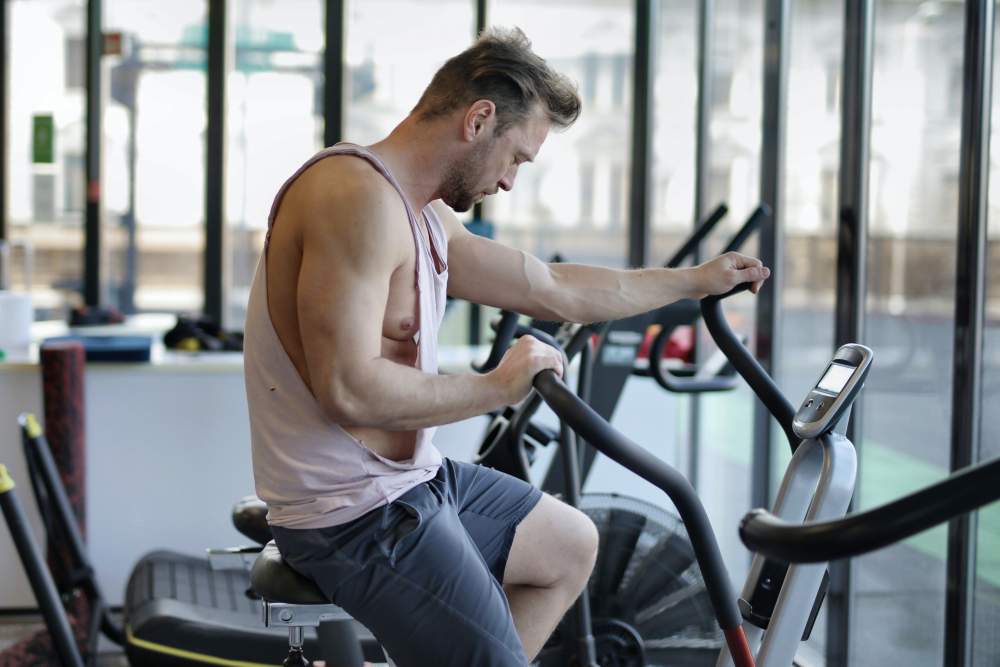 1. Easy Operating
Who doesn't look for an easy or simple operating system? The exercise bike and T.mill are similar when you will talk about their uses.
Both two are very simple to use or operate. Their mechanism is so simple that beginners or pro don't have a matter to use them properly. The other setting or functions are also easy to handle. So, you don't need to take any training to run them. Just on your machine, ride on it, and be cool.
2. Boring Job
Stationary or cross-trainer, whatever you choose, after a time it will welcome you with the boring feelings.
As I mentioned in "indoor cycling benefits and disadvantages", cycling at home or gym will be a boring job at a time. Treadmill exercise has also followed that rule.
For both terms, you can't enjoy the outdoor riding, the real-life, and the mighty nature. In the home, you will do the same things day after day. There are no significant changes or variations on there. So, after that time you will feel boring and lazy, and that's very normal.
3. Weather-Resistant
As both of them are built for indoor uses, so there is a big advantage of weather-resistant you can get from here.
The outside is too cold or hot today? Seem sufferable to go out for cycling? No problem, you have your home base machine to continue your workout. Rain or heavy snow, no one can stop to practice yourself.
So, the treadmill and the indoor bike will bring you the opportunity to show the middle finger towards the bad weather.
4. Super Freedom
And free is another satisfying similar that can offer both of workout.
You can continue your exercise as you want. There is no traffic, no outdoor violence, etc against your job. No dress-up or no extra preparation you have to take. Not required to maintain a beginner cycling guide as you are at home. You can be fixed your working time as your wish. Need some food or wish to watch the TV? Yeah, all of those near your hand.
So, for taking the freedom according to your cool to crazy wishes, those two indoor options will serve you all.
Which One Is the Best: Our Verdict
Actually, our verdict isn't the thing that can fulfill your goal. After seeing the above write what's your verdict?
Cycling or running one, whatever the point is, both of them have their advantages and disadvantages. Indoor spinning is good for durability, muscle building, and less injury at a budget-saving price. A good form of exercise, benefits of weight loss, having health advantages, etc are the points that deal with the t-mill.
As you can see, the most important factors are stand with the running machine. So if you want to hear a specific option from us, then you will say, "It's a treadmill".
Conclusion
From the above discussion, can you say one of them is good or bad? Actually, not. Both have enough reasons to go for anyone.
Now, indoor cycling or treadmill, the option totally depends on your requirements. So, make your quick pick and start your workout journey.