I'm sure most of you don't think twice about wearing regular shoes for fishing, but in reality, proper fishing wear is crucial, especially for deep-sea or offshore fishing. The right shoes can make a huge difference during the fight. If you've been on a sea trip before, you probably understand the importance of good footwear. That's why we're here to guide you and present a top shortlist of the best shoes for deep-sea fishing.
Quick Look
Best Overall: UBFEN Men's Women's Water Shoes
Lightweight: ALEADER Men's Mesh Slip On Water Shoes
Best Value: DLGJPA Men's Lightweight Water Shoes
All-Rounder: SOBASO Quick Aqua Water Shoes
Fashionable: Sperry Men's Sea Kite Boat Shoe
Women's Choice: Hiitave Women's Water Shoes
Best Sandal: Shimano Evair Fishing Shoes
Best Boot: XTRATUF Full Rubber Ankle Deck Boots
Reasons to Wear Fishing Shoes
There are several important reasons why you should consider wearing fishing shoes. Let's take a look at why they are so crucial.
Firstly, fishing is all about being in and around water. If your footwear is not water-resistant and quick-drying, it can be a major inconvenience. However, with water shoes, you can easily avoid this problem.
Moreover, when you are fishing in a boat or at sea, you need to move around frequently. This can be challenging if you don't have proper grip or support. Fishing shoes are designed to provide excellent grip even on slippery surfaces and protect your ankles from injury. Therefore, wearing the right shoes ensures both comfort and safety while fishing.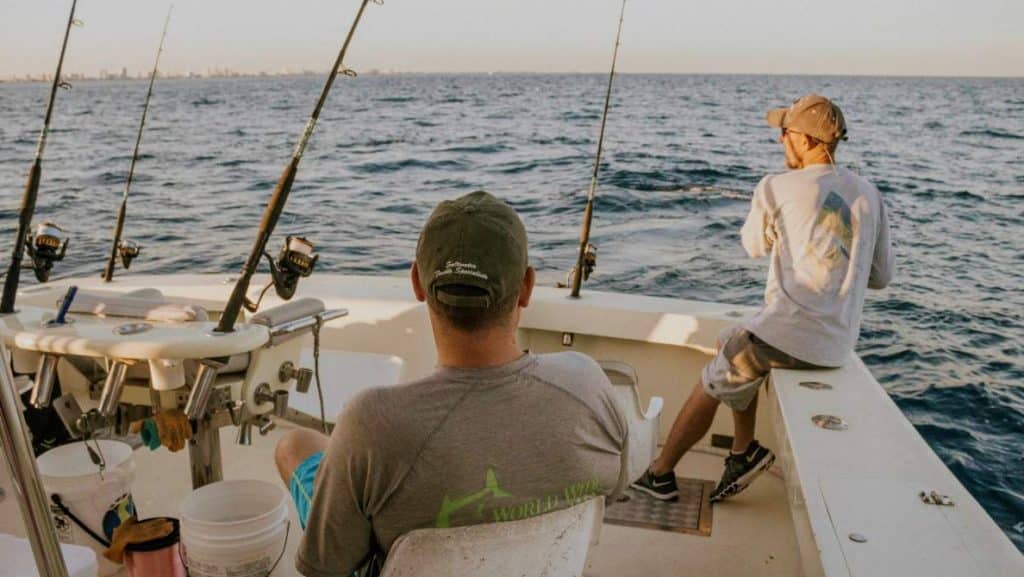 Variety of Fishing Shoes
Water shoes are not a one-size-fits-all solution for fishing. Different types of fishing require different types of shoes. Let's take a look at the four main categories of fishing shoes and their features.
Mesh shoes: These shoes are designed with drainage and breathability in mind. They are multi-purpose and can be used for fishing as well as other outdoor activities.
Clogs: Made of rubber, these shoes provide excellent traction in water and are ideal for wet conditions.
Wading shoes: These shoes are made of rubber and are water-resistant. They are perfect for fly fishing and are a personal favorite of many anglers.
Deck shoes: Also known as boat shoes, these shoes are made of leather and have an oily layer that protects against water. They are perfect for boat fishing and have a loafer-like appearance.
8 Best Shoes for Offshore Fishing
By considering all facts on a sea trip, our research finds 8 effective offshore fishing shoes. Surely this list will make your way much easier and allow you to find the perfect choice for your needs and preferences.
1. UBFEN Men's Women's Water Shoes
Features
Material and Built-Quality: UBFEN Shoes Aqua stands in a good position while we talking about its build quality. Basically, the shoes are imported and rubber is used for the sole. With sufficient durability and stability, you can get there.
The upper material is a stretchy type of fabric. And for this smooth component, you will have the option of simply wearing or removing it. Anyways, if you want to use it for a long time or want to buy it for everyday wear, then it won't be an ideal choice.
Measurements: First we will talk about the platform measure which is .25 inches. The manufacturer builds these shoes in different sizes for both genders. From 4 to 16, all sizes are available to fit your feet.
However, it also offers a good number of variants when you want a good color variant.
Water Friendly and Frictional: Though it's a water shoe, it's normal to get water-friendly behavior from it. The water game is like swimming, fishing, driving, and boating, or else you can rely on it.
To have good water drainage, it features several holes on its bottom. With the excellent water flowing capacity, you can easily move on water or can stay comfortable without having water on your feet.
Another necessary thing is the traction or grip and that has also existed there. It has convex dots. What is the use of this? Well, to protect you from slipping and ensure super friction during foot movement it will work perfectly.
Easy Maintenance: The shoe is only 0.57 pounds which is considered very light. Wearing it, you'll hardly feel there is something with your feet. Overall, it will offer comfort and a light walking experience.
For that reason, you can effortlessly and easily take it with any light backpacking trip. Those flexible shoes also ensure easy storage. Moreover, another good option is it can be washed easily with a machine.
And all of those light and simple maintenance features are offered at a very light price.
Pros
Stretchy and smooth fabric quality
Have holes to drain the water quickly
Dotted design to provide excellent friction
Very light in weight and easy to carry
Comes at a light price
Cons
The fabric isn't so durable
Not useable for everyday or long-lasting
2. ALEADER Men's Mesh Slip on Water Shoes
Features
Durable Design: The upper sole of these shoes is made with air mesh, ensuring excellent durability. The Solyte midsole also contributes to enhancing the shoe's strength. Overall, these shoes are quite durable.
Soft and Breathable Materials: Who doesn't love comfortable shoes? These shoes are designed with breathability and softness in mind. They are extremely lightweight, weighing only 0.40 pounds. You'll feel like you're wearing socks rather than shoes.
The sock liner and cushioning provide a comfortable walking experience, while the air mesh ensures proper air circulation. Together, these materials provide optimal user satisfaction.
Color and Size Options: If you're someone who loves colors, you'll be happy to know that these shoes come in nine different colors. Additionally, you'll find a range of sizes to choose from. However, some users have complained about the shoes being too narrow, so consider ordering a half-size bigger.
Slip-resistant and Water-draining: These shoes are designed to provide excellent traction and support in wet conditions. They have an outsole that will keep you from slipping. As I mentioned earlier, the materials used in these shoes are fast-draining and quick-drying, making them perfect for water activities.
Pros
This one introduces a durable design
Has comfortable soles and is an extremely lightweight
Making the water drainage and drying process so fast
Comes with grippy soles and ensures slip-resistant moves
3. DLGJPA Men's Lightweight Water Shoes
Features
Lightweight and Comfortable Materials: If you're a fan of lightweight shoes, then you'll love this one, which weighs only 0.44 pounds. When you wear them, you won't feel any burden on your feet. The upper part is made of open mesh material with holes for proper ventilation and quick drying. However, some users have expressed dissatisfaction with the drying process. Nevertheless, these shoes offer breathability, ultralightness, and fast drying qualities.
More Colors and Sizes: Variety in colors and sizes is crucial for a good shoe. As people have different tastes, the brand offers plenty of color options that look attractive. Additionally, the shoes come in a range of sizes to fit all users perfectly.
Flexible and Protective: The shoes are built with flexible materials and have a rubber outsole, which provides protection and stability. In wet conditions, they work excellently as anti-slip shoes. The shoes also feature a full-coverage design that provides ample safety and comfort to your ankles. In short, they are a suitable choice if you want to enjoy comfortable and protective footwear.
Adjustable Straps: One of the essential features of these shoes is their elastic straps, which are adjustable. The adjustable straps make it super easy to wear the shoes without having to tie irritating knots. You can easily and quickly adjust the fitting level to your preference.
Multi-Condition Support: Although primarily designed for water activities, these shoes can perform well in other situations such as yoga, cycling, boating, sailing, and other sports. Finally, the best part is that these all-rounder shoes offer a very affordable price.
Pros
Ultralight and has breathable materials
Available in different colors and sizes
Flexible and good as anti-slipper
Offers effective and adjustable strap
Great value and multi using the item
Cons
Not so good on quick drying
4. SOBASO Quick Aqua Water Shoes
Features
Comfortable and Quality Design: The design and materials get a thumbs up from me. The outlook is cool and the soles are made of rubber as expected. The premium build comes from the EVA insole and quality outsole. The upper is made of mesh, providing comfort, support, and safety.
Overall, you'll find a high-quality design and components.
Breathable and Lightweight: This model is considered light compared to others, weighing only 1.25 pounds. Quick-drying is a must in sea conditions, and the upper of this item can drain water fast and dry quickly. The materials are breathable too. This lightweight footwear stays dry and comfortable.
Grippy and Protective: The rubber sole plays a significant role. The thick sole provides super stability and foot safety. In water environments, it offers grip to avoid slips and falls, making it perfect for fishing.
Easy to Wear and Suitable for Various Occasions: If you don't like taking your shoes off and on repeatedly, you'll love the easy and quick-wearing design with a well-made elastic lace. These shoes are suitable for any water or outdoor activities, and they come in many sizes to fit any foot, making gender or size confusion irrelevant.
Pros
Comes with high-quality and comfortable materials
It provides a breathable and fast-drying experience
The no-slip design ensures super grip and protective
Adjustable and easy putting character
Wearable in different conditions
5. Sperry Men's Sea Kite Boat Shoe
Features
Leather Upper: One of the essential features of this shoe is its full leather upper, which serves as a crucial need in water shoes. The leather does an excellent job of keeping water out, making it perfect for underwater activities. Moreover, the mesh upper ensures breathability, which allows the shoe to dry quickly.
Stylish Look: Unlike other water shoes, which typically focus only on water resistance, the Sperry Sea Kite has a stylish design that is sure to catch your eye. With three color variants to choose from, you can look great while enjoying a low-weight pair of shoes.
Removable and Comfortable EVA: Apart from its fantastic build quality and stylish appearance, the shoe is also exceptionally comfortable. The manufacturer has included a removable EVA midsole that is soft and padded, ensuring maximum comfort for the wearer.
Traction Provider: Lastly, we come to the safety and traction services of the shoe. The Sperry Sea Kite uses Wave-Siping technology to prevent unwanted slips, and the outsole is made of rubber, providing excellent traction in wet and slippery conditions.
Overall, the Sperry Sea Kite is a smart choice for water activities, with its stylish design, comfortable fit, and excellent traction.
Pros
Upper leather works well on water-resisting
The stylish and fashionable outside design
Removal of EVA sole and mesh upper for breathing
Have Wave-Siping for providing excellent traction
Cons
Low output for durability
6. Hiitave Women's Water Shoes
Features
Wide Design: The shoe is built with a large toe design that provides ample space for your feet to move comfortably, ensuring that you don't experience any tightness or discomfort. However, some people may find it wider than normal, so the seller recommends going for a half size smaller if you want the right fit.
Drying and Drainage: The shoe is made with comfortable materials that can withstand water conditions. It is breathable and has air mesh and holes on the upper that allow air and water to pass through, ensuring that your feet remain dry and comfortable. Additionally, the shoe has a material with impressive water-draining capacity, which enables it to stay dry quickly and perform well in water.
Grippy Sole: Slippery conditions are common in the sea or when fishing on a boat. Hiitave has addressed this issue by adding rubber outsoles and an appropriate design to provide traction and ensure stability when walking on wet surfaces.
Easy Wearing and Multiple Uses: The Shocklace feature allows for easy adjustments, providing custom fitting and easy putting on and taking off. Moreover, the shoe is versatile and can be used for various activities such as hiking, kayak fishing, yoga, beach volleyball, and more. It's not limited to water activities only.
Pros
Toe design to offer more inside space
Excellent output in terms of water drainage and drying
Has a grip-able outsole to provide stability and traction
Adjustable straps create the easy putting environment
Cons
Too wide compared to normal
7. Shimano Evair Fishing Shoes
Features
Ultralight Materials: The first thing you'll notice about these fishing sandals is their lightweight EVA soles. And what does that mean for you? You won't feel like you're wearing anything at all. It will be as if you're walking around barefoot. This will increase your level of comfort and relaxation while walking.
Breathable Upper: The design of these shoes features plenty of gaps, particularly in the upper part. These gaps provide enough space for air and water to move in and out, allowing your feet to breathe properly. This is especially beneficial in hot weather.
Foot Protection Features: This brand goes above and beyond to provide safety features for your feet. The ergonomic arch and molded EVA are designed to absorb heel shock and protect your feet from fatigue in tough conditions. However, some users have experienced blisters. If you have the same issue, wearing a pair of socks could be a simple solution.
Size and Appearance: These fishing sandals look stylish and come in six different colors. They're available in almost all sizes, from small to large feet. Please take the time to select the right size, as sizes may vary depending on the brand. So, try to find the perfect fit for you.
Water Resistance: The manufacturer claims that these sandals are fully waterproof. The materials used are waterproof, and there's an option to remove the waterproof inner sole if desired. The most important feature, however, is the excellent water draining. With plenty of gaps in the upper, these shoes quickly remove water and stay dry. They are ideal for fishing, boating, or any marine activity.
Pros
Comfortable and ultralight EVA soles
Sandle's design allows for a great breathing system
Water-resistant and removed inside sole
Has gaps for water removing
Effective design to ensure ankle or heel safety
Cons
Few colors option
Unknown traction level
8. XTRATUF Full Rubber Ankle Deck Boots
Features
Stylish and Strong Design: XTRATUF Deck Boot is one of the best offshore shoes, boasting a unique and stylish appearance. It is available in three pretty colors, with dark accents and white that enhance its pleasing look.
Not only is it beautiful, but it is also of high quality. The boots are made of fully rubber construction material, and the front and rear poll provide strong stability and easy off-on. Thus, it can be said that these boots will never let you fall on the deck or offshore. However, if you are looking for extreme durability for long-term use, this option may not be suitable.
Ultra Waterproof: One of its highlight features is its excellent waterproof nature, with a hundred percent water protestor capacity. Furthermore, the boot's height makes it difficult for water to enter. Even if water enters, there is no need to worry, as the construction dries it quickly and provides a way to breathe, thanks to the mesh liner. These boots work particularly well in cold weather.
Sizing: Available in sizes 7 to 14, you can choose your ideal size. The manufacturer recommends going half a size bigger to ensure a proper fit. However, there are some controversies, as some guys have expressed that these boots are not suitable for people with large feet.
Amazing Traction: The boot's construction and material are smartly designed to handle slips, which is crucial in wet conditions. The Chevron Outsole provides significant slip-resistant traction. Whether on deck, boat, or any slippery surface, these boots will secure your ankle. Furthermore, they are no-marking, which provides more traction. The features are capable of ensuring sufficient grip and slip-proofing in any condition.
Pros
Looks stylish and strong in design
Provide the fully waterproof advantage
Exist rear and front rolls for easy maintenance
Have a mesh line for easy drying and breathing
Slip-resistant and tractional construction
Cons
Not ideal for huge foot
Lasting time isn't so long
How to Choose the Best Offshore Fishing Shoes
There are some must-have features on shoes that you should look for to get the fullest benefit. So, keep these in mind before making any purchase decision.
High-Quality Material
When it comes to shoes, it's important to prioritize checking the type of material as it greatly impacts their quality and durability.
Underwater, what material offers the most benefits?
Since you'll be dealing with water, it's essential to have waterproof and quick-drying components in your shoes. Coming into contact with water is common when you're in it, so having shoes with water-resistant features that dry quickly is advantageous.
Neoprene or synthetic rubber are materials that offer these features. They also provide comfort and enough space for your feet to move easily. Leather is another material that provides extreme durability.
Therefore, look for materials that are sea-friendly and can withstand the conditions you'll encounter while at sea.
Durable and Waterproofing
Durability is also a must-have point during your boat journey and relies mainly on the materials used. Generally, leather provides stronger and more long-lasting service than other materials. However, if you intend to use the shoes for purposes beyond fishing, then it's best to go with versatile options. Versatility will allow you to use the shoes in different conditions. But, if you are only looking for fishing shoes, you can ignore this factor.
The most crucial aspect now is the waterproof and water-draining system. Make sure the shoes have a water-resistant feature and the capacity for quick drainage. This will keep your feet dry and comfortable. Although there are no shoes with full waterproof capabilities, search for shoes with a good waterproof feature and a great water-drying system.
Super Grip and Good Supportive
What are your expectations from an offshore fishing boat? Slippery and wet conditions are inevitable on the boat's surface, and you must continue your work in these conditions.
Wearing shoes with excellent grip can be a great advantage, providing a strong grip on the wet surface and protecting you from unwanted slips.
Moreover, during fishing, movement is unavoidable, and the best sea shoes will provide you with essential grip to enhance your fighting power. By ensuring the grip feature, you can relax in terms of safety and foot strength.
Comfortable Features
Comfort is just as important for shoes as it is for any other clothing item. If a shoe has all the necessary features but lacks comfort, it will not win your heart.
So, what factors should you consider to ensure a comfortable wear? Soft and breathable materials, a lightweight design, and enough space to move your foot are all important for your comfort.
While I mentioned materials earlier, it is important to pay extra attention to the softness and breathability of the material used. Additionally, make sure that there is enough room for your foot to move freely.
Furthermore, the weight of the shoe is also an essential factor. The lighter the weight, the more comfortable it will be to wear.
Therefore, to have a comfortable and pleasant footwear experience on the water, it is essential to ensure that the shoe has all the necessary comfort features.
Frequently asked questions
What kind of shoes do I wear on a fishing boat?
When fishing on a boat, it is important to wear shoes that provide good grip and stability, as well as protect your feet from the elements. Some common types of shoes recommended for fishing on a boat include:
Deck shoes: Deck shoes are specifically designed for use on boats and are known for their non-slip soles and quick-drying materials. They are also typically made with drainage holes to allow water to escape, making them a good option for fishing on wet decks.
Water shoes: Water shoes are lightweight and made with quick-drying materials. They provide good traction and stability on wet surfaces, making them a good option for fishing on a boat.
Sandals: Sandals can be a good option for fishing on a boat if you want to keep your feet cool and protected from the sun. Look for sandals with non-slip soles and adjustable straps for a secure fit.
Hiking shoes: Hiking shoes can be a good option for fishing on a boat if you are fishing in rough or rocky conditions. They provide good support and stability and are typically made with waterproof materials.
It is important to choose shoes that fit well and provide good support for your feet. It is also a good idea to bring an extra pair of shoes in case your feet get wet. Regardless of the type of shoes you wear, it is important to ensure they are appropriate for the conditions you will be fishing in and that they provide good traction and stability on wet surfaces.
Are Crocs meant for fishing?
Crocs can be used for fishing, but they may not be the best option for everyone. Crocs are made from a lightweight and quick-drying material and provide a good grip on wet surfaces, making them a suitable option for fishing in certain conditions.
However, Crocs do not provide much ankle support or protection from sharp objects, so they may not be ideal for fishing in rough or rocky conditions. Additionally, Crocs are not designed to be waterproof, so they may not be the best choice for fishing in deep water or in wet conditions where your feet may get soaked.
Ultimately, the suitability of Crocs for fishing will depend on the specific conditions you will be fishing in and your individual needs and preferences. If you are fishing in calm water or on a boat with a smooth deck, Crocs may be a good option. However, if you are fishing in rough conditions or in deep water, you may want to consider alternative footwear that provides more protection and support.

Why do fishermen wear white rubber boots?
White rubber boots are a common choice among fishermen because they provide good protection and are easy to clean. The white color helps to reflect the sun and keep the feet cool, which is important for fishermen who are often exposed to the sun for long periods of time. Additionally, rubber boots are waterproof and provide good traction and stability on wet surfaces, making them a good choice for fishing on boats or in streams and rivers.
The ease of cleaning is also a key factor for fishermen who need to keep their footwear clean and free of debris and fish scales. Rubber boots are easy to clean and maintain, and the white color helps to show any dirt or stains that need to be cleaned.
Overall, white rubber boots are a popular choice among fishermen because they provide good protection, and comfort, and are easy to clean. They are suitable for use in a variety of fishing conditions and are a practical and functional footwear option for anyone who spends a lot of time on boats or in the water.
Final Words
As we reach the final stage, we hope you have found the perfect buddy for your fishing adventure. These offshore fishing shoes were carefully chosen based on actual user experience, so you can't go wrong with any of them.
While each shoe has unique qualities, they all meet the necessary requirements for fishing in deep sea. Ultimately, the choice is yours. In our opinion, UBFEN is the perfect option from all angles, but if you're on a budget, DLGJPA would be the best choice.
We bid you farewell and look forward to hearing about your next water trip experience.
Related Posts