Nuevo Vallarta is a fantastic name for the destination to spend one's holidays perfectly. It is a planned base resort community located in Mexico.
It gains tourists rapidly every year because of its modern touristy commodities and impressive attractions that offer anyone the to enjoy their dream vacation.
Location
N. V. is located north of Puerto Vallarta in the center point of Banderas Bay that on Mexico's Pacific coast. Shorty.
State- Nayarit
Country- Mexico
Founded- 1992
Population- Around 12000
The Mexican government finished this project taking a huge of time. And now this turns into a luxury villa with stunning gardens, a beach, and so on relaxation.
How to Get to Nuevo Vallarta
It's quite common and needy to know how you can go to N.V. from your place. Alright, let's discuss it.
If you are traveling from outside of Mexico then the easiest way is to first land at Puerto Vallarta airport from your place. There is only 3 miles distance between P.V. to N.V. So from the airport to Nuevo Val. You can travel by bus which requires about 11-13 minutes. There is plenty of bus available after a very short time. So you don't need to think about the bus missing. Averagely the bus costs only 1 to 2 dollars. If you don't feel comfortable on the bus then a car rental is available there.
There are also more options for airports from there you can travel to your main destination. They are-
Tepic (TPQ)
Guadalajara (GDL)
Aguascalientes (AGU)
But those are quite far from N. Vallarta and costs are also high. So to save time and money, my best recommendation is to land at P.V airport.
In terms of inside travelers of Mexico, you can travel to Nuevo V. from your place by bus and rental car. There are many available direct buses to your destination. The time and cost are dependent on where you will travel. If you want luxury and time-saving travel then you can go on the plane that I mentioned above.
So, that's all about you can go to your desired location as an outside or inside traveler.
Weather in Nuevo Vallarta
Weather is a highly important factor for any trip. Because one's mind, clothes, safety, activities, etc are dependent on it.
Nuevo V. has an average tropical climate. The temperatures are high. Summer and autumn appear hot. In winter there is cold but sunny and warm. Spring comes with flowers.
June to September is mainly the rainy season. Rain mainly occurs at night. Tours and fishing tours do not vary with it.
February to May is considered a dry season. On average February is the coolest month and August is the warmest.
Water temperatures are favorable.
Things to Do in Nuevo Vallarta
There are many things to do here for making an unforgettable vacation for the visitors. So let's explore the reasons behind visiting there.
#1. Nuevo Vallarta Beach
Visiting the beach is considered the best thing to do here. Soft sand with luxury hotels and villas makes it one of the best beaches in this region. It seems to go on miles with its 3 km area.
There are lots of activities to play here. Beachside walking, beach sunset, swimming, etc you can do. Kayaking, paddle and boogie boarding, etc are popular here. Beach sports, water games, sunbathing, and sandcastles all of those are parts of this beach. If you stay in any resort then I hope you will experience the best beach beauty.
#2. Visit Dolphin & Whale
Thrilling Mexico enhances your thrill by experiencing dolphin and whale watching very closely. It is a great opportunity to swim with the dolphin and sea lions as they are trained. And this is offered by Aquaventuras Park with so many adventurous options. So adventure with worlds one of the best creatures would be your memorable experience.
#3. Spas in Nuevo V.
The spa is another name for the best thing to do. As a visitor on your vacation, there is no logic not to be relaxed with Nuevo V. spas. Facial, full body massage, body scrub, serene ambiance, healing rituals and so on treatments are available to boost your refreshment and spirit.
#4. Ada Sailing
Ada sailing is also presented here. VIP and Classic Ada are sailing with all the facilities. So it can be part of your vacation.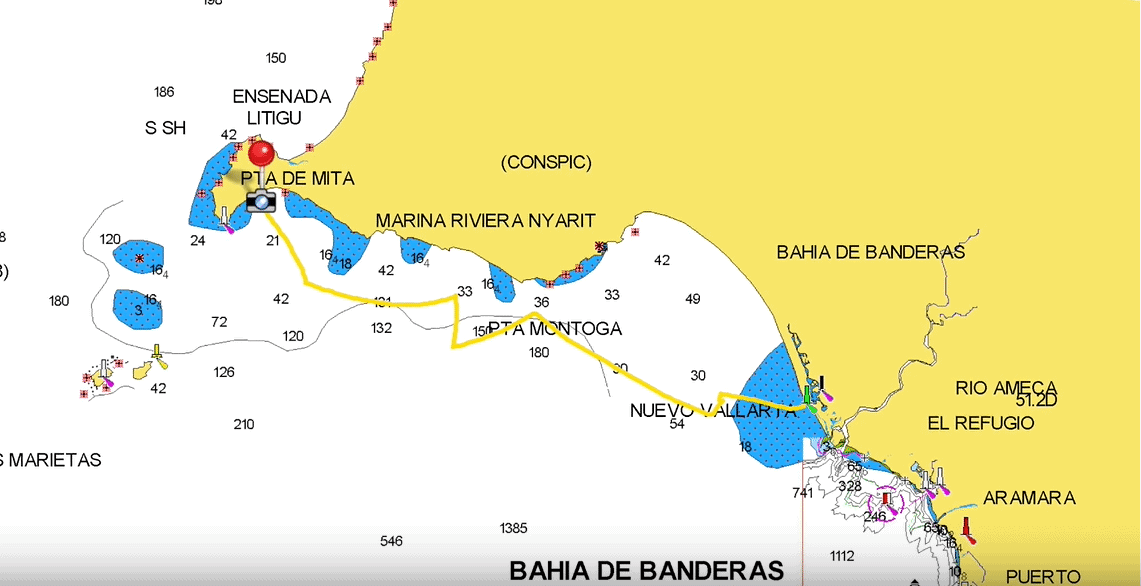 #5. Golf Course
A golf course can be another interesting thing to do here with the naturally decorated ground. El Tiger Golf course raised its new upscale championship facilities and exclusive county club. This place will make each day of your life a special one. El Tiger Golf is one of the paradise places in the world which live up to the idea of paradise.
The club and Paradise village offer a variety of deals: Stey and play packages, spouse for a relaxing stay at a beach resort, or looking for fun and gaming with your golfing buddies. They offer a variety of membership options designed to meet your need.
El Tiger golf Club at paradise village can the perfect venue for you.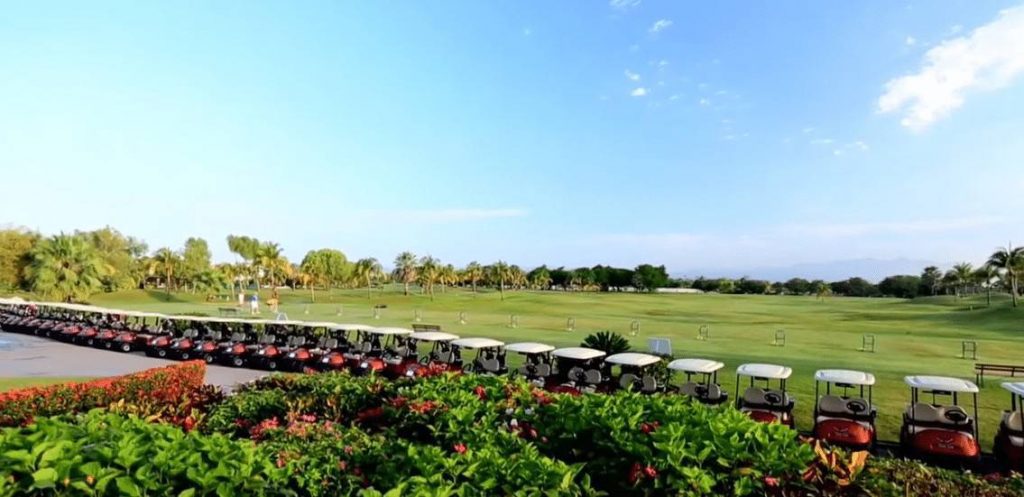 #6. Mexican Foods
It would be good for you if the delicious foods of Mexico are tasted. Seafood, sea fish, traditional foods, wine, etc are on the list. So don't end your tour without them.
#7. Shopping
Shopping is a part of a tour. N.V. offers you some amazing shopping places to buy your desired goods. Estudio-Cafe, Riviera Farmers Market, Paradise Plaza Shopping Center, Sunset Market, Splash of Glass, Mega Commercial Mexicana, etc are the best places for shopping lovers.
#8. World-class Hotels and Resorts
Luxury hotels, villas, resorts, etc also the best part of going there. Those can be easily amazed you with their beauty and side scenery. Nuevo Vallarta is a modern planned resort area, 16 miles north of Puerto V., and offers a wonderful place for your vacation in sun. Vacationing in N.V many visits spending their days marveling at the old town buildings. A beach vacation is not complete if you do not visit Intra Mare Day Spa.
Hotels and resorts offer many activities for guests to enjoy their vacations. You can find yourself in full enjoyment with your children in the children's play area, activities spaces, and sports dedicated to relaxation, video games, pool table, etc. Marival resorts offer nightly shows and contests for young and old. You can find fun from early morning until late at night.
#9. Attend colorful events
The place is busy with many attractive events during the year. Cultural events, beach events, fisherman's festivals, etc are held frequently. So it's a great chance to do a party along with those events.
Whenever you visit Mexico there are always events and festivals that are ready to welcome you. Let's check out the upcoming schedule near your destination.
#10. Nuevo V. Adventures
A lot of adventure is offered in this area. Island visit, sailing, Luxury Yacht & Snorkel, sea safari, off-road adventure, etc are included in this list.
#11. Vikara Wellness
Vikara Wellness is a personalized itinerary community for yoga and wellness. It is located in Cerrada del Rocio Lote 44 CDE, N.V. Visitors attend there to relax through world-class yoga and in the great setting of wellness. There are excellent guides or teachers to give you a cool experience of those. So, those things to do can be nice ones.
Attractions near N.V.
The nearest attractions to visit or things to do are also available with full of thrill. They are-
1. Chica Loca
Boat tours and water sports are offered by Chica Loca.
2. Sunset Cruise and Zip Line in Puerto Vallarta
Puerto Vallarta is very close to Nuevo. In the night, it turns into heaven with history, culture, and natural beauty on the cruise. And that can be an unforgettable night. Again, the zip line adventure is also given a memorable moment.
Sunset sail is for those who would like to sit back, relax, and enjoy the beauty of Banderas Bay two at the finest time of the day- Sunset. You can find a wonderful experience and tranquillity after leaving the port. There is a beautiful cruise on luxury sailing from start to end. The ocean was beautiful with a beautiful sunset.
If you are a thrill seeker for zip lines then Puerto Vallarta is best. The largest single zip line in Puerto Vallarta is Vallarta extreme advancer at 1200 meters.
3. Marietas Islands
Marietas Islands is not so far from the main. It is one of the popular tourist attractions.
4. Adventure with Punta Mita and Sayulita UTV
Make a tour in Punta Mita. Surf Lessons, trails, off-road drives,s and so on can be your destination. Sayulita is the perfect place for off-roading and buggy tours. You can take an off-road romp through the back rods of Punta Mita from Puerto Vallarta or Nuevo Vallarta. Sayulita is known for its local arts and hip. You can relax and stay awhile to take the food, enjoy the culture, and walk along the sandy beaches. There is no better way to get off the road and onto the tropical terrain of this spectacular region than adventure tours.
5. Bucerias, Jalisco
Bucerias the colorful market can be your travel plan.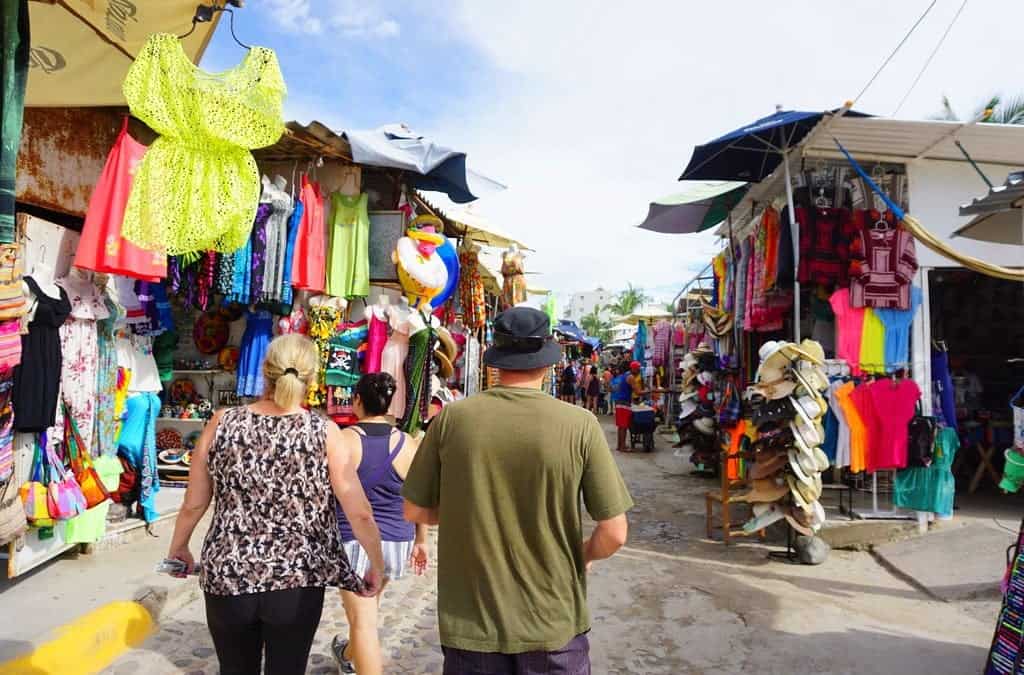 6. Yelapa Waterfall & Majahuitas Snorkeling
It can be great fun in Yelapa Waterfall & Majahuitas Snorkeling. You can have fun and relax on the Ryelapa and Majahuitas day tour from Puerto Vallarta. Where dolphin encounters and humpback whale sightings are common occurrences. The little village of Yelapa and Majahuitas offers some of the best snorkeling at some beautiful coves on the Bay of Banderas. These are the hidden jewels just waiting to discover. This can be a perfect choice for you.
7. Adventure in Sierra Madre Jeep
You can Discover the wildlife adventure there.
8. Marina N.V
Make a tour of a rapidly growing private marina. Marina has rapidly gained a reputation as one of the renowned private marinas of the region. Located a few minutes away from Puerto Vallarta and the international airport. You can enjoy a sunny beach with soft sand and a beautiful Marin, spectacular swimming pools, and a prestigious golf course. You find there a big shopping mall and a first-class spa treatment, restaurants featuring the best international cuisine all within a few steps away from your boat.
9. Danisha Sport Fishing
Fishing in the deep sea is offered by Danisha Sport Fishing. That can be exciting for those who love both fishing and adventure.
10. Riviera Farmers Market
It is the name of a market where fruits, vegetables, seafood, sweets, jewelry, etc are available at the highest level of freshness and quality. The market is on Sunday from 9.00 AM to 2.00 PM.it has been very popular with locals and vendors and becoming very well known in the South Bay very quickly. This market offers you everything you want from the farmer's market- a selection of delicious pastries and bread, fresh vegetables, and a wide variety of handmade crafts and jewelry. Get there early so you can buy fish and shrimp that came off the boat every day. There's live music to set the scene and on a beautiful day, it's just a nice little outing.
11. Bici Bucerias
It is all about riding with a group. That can be a bike or cycling.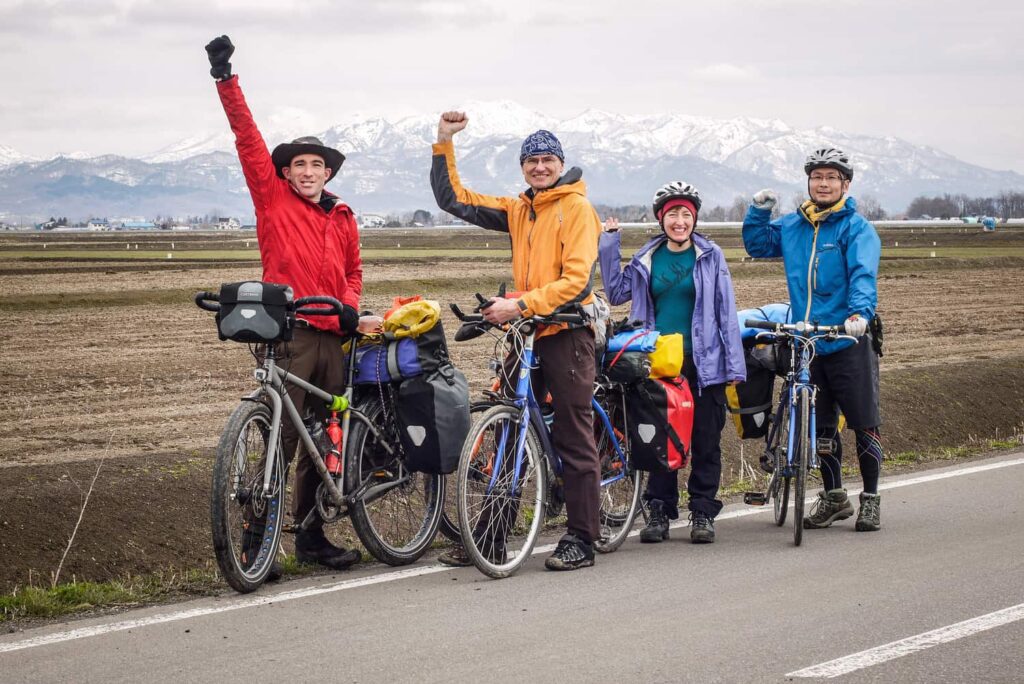 12. Sabal Playa Beach Club
For additional refreshments and outdoor activities, one can visit this beautiful club. When you are sabal you perceive a perfect mix between environment and exclusivity. It is an ideal place to have a good time with your family, having an area for kids where they can have fun with various games and activities. You can find a relaxed atmosphere and enjoy drinks with seasonal flavors while contemplating colorful sunsets.
You can enjoy the day at the beach, being welcomes you to select a lounge chair, and a beach umbrella, and relax to your heart's content. A full-service menu is available with creative snacks and drinks and full meals. The charming Mexican atmosphere is friendly and ready to meet all of your needs.
13. Eco Explorer
Eco Explorer has mainly related the recreational activities on the sea that lead by a team.
14. Flamingos Golf Club
In the northern part of Banderas Bay, it is located. It is also considered an attraction by visitors. It is a 6853-yard long par 72 championship course with slightly narrow fairways. Flamingos have an excellent design that will allow you to obtain a dramatic result if you plan to play target golf. In addition to its natural Percy Clifford design, spectacular rolling hills with natural mangroves, and lush tropical rainforests help Flamingos apart from other Mexico golf courses. The courses sprawl across a landscape covered with hundreds of different trees including 1,500 palm trees. Having 9 water hazards and 40 bunkers that come into play throughout the golf course.
15. San Francisco
Visit this color video city for more experience.
Best Time to Go
There is no mean for the best time to go. We calculated a statistic shown below.
December to April: Considered the busiest month. This is peak season. It is expected for sunny and low rain. Warm water, greener lands, average temperature, opportunities for whale watching, and surfing, more events, festivals, etc make this season peak time. But during this time, there is so much crowd and the cost of hotels or other services is high.
July to September: The season is known as the low season. Almost every day there is rain. There is warm and the visibility of water is found. The season is best for scuba diving. As there is much rain, very few numbers of tourists are found.
October to November: Late spring is also a good time to visit as there are good weather and a lower cost of services.
Where to Stay in Nuevo Vallarta
There are many luxurious and excellent options to stay in. Those accommodations can increase your vacation's clarity. So let's take a look at where you can stay.
list of Best Hotels and Resorts
Luxury hotels and resorts can be one of the reasons to visit N. Vallarta.
5 cheap and luxury hotels are mentioned below-
Grand Velas Riviera Nayarit ( $909 per night )
The Grand Mayan ( $544 per night )
Riu Vallarta Hotel ( $199 per night )
Marina Banderas Suites ( $101 per night )
Villas Parota ( $49 per night )
5 Cheap and luxury resorts are mentioned below-
Hard Rock Hotel Vallarta ( $3350 )
Delcanto Beach Resort ( $517 )
Marival Distinct Luxury Residences ( $352 )
Marival Emotions Resort & Suites ($293 )
Villa Del Palmar Flamingos Beach Resort & Spa Riviera Nayarit ($170 )
For your dream vacation, you can try those-
1. Grand Velas Riviera Nayarit:
Luxury beachfront with 3 outdoor pools. All 265 rooms offer minibars and espresso machines. High-quality bed linen and a wide choice of pillows. During your stay, you can count on additional facilities such as free wifi, an MP3 docking station, and an LED TV with satellite channels.
2. Velas Vallarta Suites Resorts:
Facilities with a swimming pool, private beach, and a full-service spa. All 209 rooms offer plasma TVs with cable channels and include kitchens with refrigerators and microwebs.
During your stay, you will also have free Wi-Fi, a minibar with free snacks and drinks,s and double-layer mattresses. Rooms are air-conditioned accommodations, accessible from outside corridors.
3. Villa Del Palmar Flamingoes Beach Resort:
The resort with a fully equipped spa. It has 4 restaurants and 277 rooms and offers an equipped balcony or LCD TV with cable channels. During your stay, you can count on additional amenities such as WiFi, room service, and dishwashers.
In-room wireless internet access is available for free and a telephone is available with relaxing services such as large umbrellas and comfortable sun loungers, you can just enjoy yourself sunbathing.
Restaurants and Food Court
Some best (people's call) restaurants and food courts are listed below.
Restaurants-
Laguna Tinos
Porto Bello Bistro & Lounge
Sonora al Sur
Seafood restaurants
The Blue Shrimp
Mar y Sol
Food Courts
· Lago Real Food Court
Bakeries and Cafes
Starbucks Coffee
D Stock Gourmet
Also, there are famous Bars & Pubs.
Transportation
For a foreigner, it is so important to know about transportation. It can make your vacation easier as you are aware of the fact about how you get where you want to go. Here our guide will give you about transportation.
Bus
If you are looking for the most inexpensive transport in Mexico then the public bus is the so far better option. Another advantage is here you can experience the side view very closely. Also, the bus routes get you to many beautiful places in Mexico just for a couple of dollars.
To take a bus from Nuevo Val.:
– Puerto Vallarta (10-15 Pesos)
– Bucerias (6-8 pesos)
– Sayulita (12-15 Pesos)
– Mescales (6 Pesos)
– Anyplace in Nuevo (6 Pesos)
Taxi
Taxi is another good option. If you have less time or want to go in a hurry then a taxi is ideal for getting around the city. Of course, those taxis are well-maintained and much more comfortable. Usually, the cost of most taxis is between 250-300 pesos.
Car Rentals
Car Rentals are also available for getting around Mexico. There are many agencies or service providers. You can book via the website or by calling. The rates vary with many facts.
Uber
And Uber is also near your hand. For a quick and affordable way, Uber is much suggested.
Travel agency
The travel agency is for those who want a safe and insufferable vacation systematically and if you are in a group. If you are able then it is wise to contact the travel agency before. There are many so good agencies in your budget. Below we mention some of them.
Intrepid travel
Foxworldtravel
Travel leaders
Frequently Asked Questions
Visiting Nuevo Vallarta Mexico safe or not?
– Since it is so far from the border, it is safe for travel. Again as the drug is illegal in Mexico so the crime is also less.
How far is N. Vallarta from Puerto?
– It's 11 km.
What airport do you fly to for the main destination?
– Puerto Vallarta airport.
What is the cheapest time to Visit?
– Between April and June.
What is the rainy season there?
– June to Mid-October.
Is it safe to swim on the beach?
– Yes, you can swim.
Is it necessary to book Aquaventuras Park tickets in advance?
– To avoid crowds you can do it.
How much is a hotel for tonight on average?
– On average, it costs $107 per night.
Should I bring dollars or pesos?
– You can bring dollars but pesos are a good option.
How much is a taxi from Nuevo V. to Puerto V.?
– It's between 250-300 pesos.
What is the coldest month there?
– It's January.
Is Nuevo Vallarta worth visiting?
Nuevo Vallarta is a popular tourist destination located on the Pacific Coast of Mexico, just north of Puerto Vallarta. Whether or not it is worth visiting depends on your personal preferences and travel goals.
Nuevo Vallarta offers a variety of attractions, including beautiful beaches, luxury resorts, golf courses, shopping centers, and water sports activities. It is also conveniently located close to other popular destinations such as Sayulita, Punta Mita, and the Marietas Islands.
For those seeking relaxation, Nuevo Vallarta's beaches are known for their white sand and calm waters. It is also a great place for those interested in water activities like surfing, paddleboarding, and jet skiing.
Additionally, Nuevo Vallarta is a great destination for those interested in exploring Mexican culture and cuisine. The town has many authentic restaurants, markets, and cultural events that provide visitors with an opportunity to experience traditional Mexican life.
Overall, whether or not Nuevo Vallarta is worth visiting depends on your interests and preferences. If you enjoy beach vacations, luxury resorts, water sports, and Mexican culture, it is definitely worth considering as a travel destination.
What's the difference between Puerto Vallarta and Nuevo Vallarta?
Puerto Vallarta is a historic and culturally rich city located on the Pacific coast of Mexico, while Nuevo Vallarta is a modern resort area located about 15 miles north of Puerto Vallarta. Puerto Vallarta has a charming old town, traditional architecture, and a vibrant art scene, while Nuevo Vallarta offers luxury resorts, golf courses, and modern amenities. While both destinations offer beautiful beaches and access to outdoor activities, they cater to different types of travelers.
What is the best month to visit Nuevo Vallarta?
The best time to visit Nuevo Vallarta is generally between December and April when the weather is dry and sunny with average temperatures ranging from the mid-70s to the low 80s Fahrenheit. This period also coincides with the high season for tourism in the region, so visitors can expect a lively and vibrant atmosphere with plenty of events and activities. However, keep in mind that prices for flights and accommodations may be higher during this time, so it's a good idea to book in advance to secure the best deals. If you prefer to avoid the crowds and don't mind a bit of rain, visiting in May or November can also be a good option as the weather is still warm and the prices are typically lower.
What is Nuevo Vallarta known for?
Nuevo Vallarta is known for its luxurious resorts, beautiful beaches, and outdoor activities. Some of the popular activities in the area include golfing, fishing, surfing, parasailing, and whale watching. The destination also offers a variety of dining and shopping options, with many restaurants and markets showcasing traditional Mexican cuisine and artisanal goods. Nuevo Vallarta is also a popular spot for eco-tourism, with nearby natural attractions like the Sierra Madre Mountains and the Marietas Islands offering opportunities for hiking, wildlife viewing, and snorkeling. Additionally, the destination is known for its proximity to the charming and historic city of Puerto Vallarta, which offers a wealth of cultural attractions and experiences.
Are the beaches nice in Nuevo Vallarta?
Yes, the beaches in Nuevo Vallarta are generally considered to be very nice. The destination offers over 3 miles of pristine sandy beaches, which are wide, clean, and ideal for swimming, sunbathing, and water sports. The beaches are also relatively uncrowded, providing visitors with plenty of space to relax and enjoy the scenery. Some of the most popular beaches in Nuevo Vallarta include Playa Nuevo Vallarta, Playa Flamingos, and Playa Royale, which offer calm waters, gentle waves, and spectacular views of the Pacific Ocean. Additionally, the beaches are well-maintained and have a variety of amenities such as restaurants, bars, and beach clubs, making them ideal for spending a day in the sun.
Conclusion
So, here are all of the things anyone needs to know about visiting here. After that, if you have any questions please mail us, and we will help as far as we can. I wish you will spend an amazing vacation in Nuevo Vallarta and don't forget to share it with us.