El Nido, in the province of Palawan, is a 1st class municipality. Its land area covers about 465 square kilometers which are bordered by the south china sea in the west, the sulu sea in the east, the Linapachan strait in the north, and the mainland Palawan in the south. As a tourist place what things to do in El Nido is a common question among travelers.
It's one of the most beautiful beaches and island destinations in the world. CNNGo has declared it the best beach and island destination in the Philippines. It is currently ranked #4 by Conde Nast Traveler's list of "20 Most Beautiful Beaches in the World". It is known for its Coral Reefs, limestone cliffs, white-sand beaches, and as the gateway to the Bacuit archipelago.
Alright. The place has something for everyone. Nobody can get bored with their traveling time here. There is scope for your amusement, adventure, family time, and many more. Let's get you to know what are the best things you can do in El Nido-
1. Kayaking
It has great spots for an amazing Kayaking adventure. You can start with Bacuit bay, One of the most popular spots for kayaking. You can hit three spots on the way, Big Lagoon, Small lagoon, and Miniloc Island.
There are travel agencies who will provide you with accessories for kayaking at a decent cost. You will get a map from them with some tips to get there where you are going. You can even hire a guide to help you. Big Lagoon- The Bright Sky, Green crystal clear water and rocks towering over and a little beach ahead is being seen, everything seems unbelievable and artificial in the big lagoon. You can even see fish, Sea Urchins through the water.
You can rent a kayak or hire a boat to get there when the current isn't opposing you.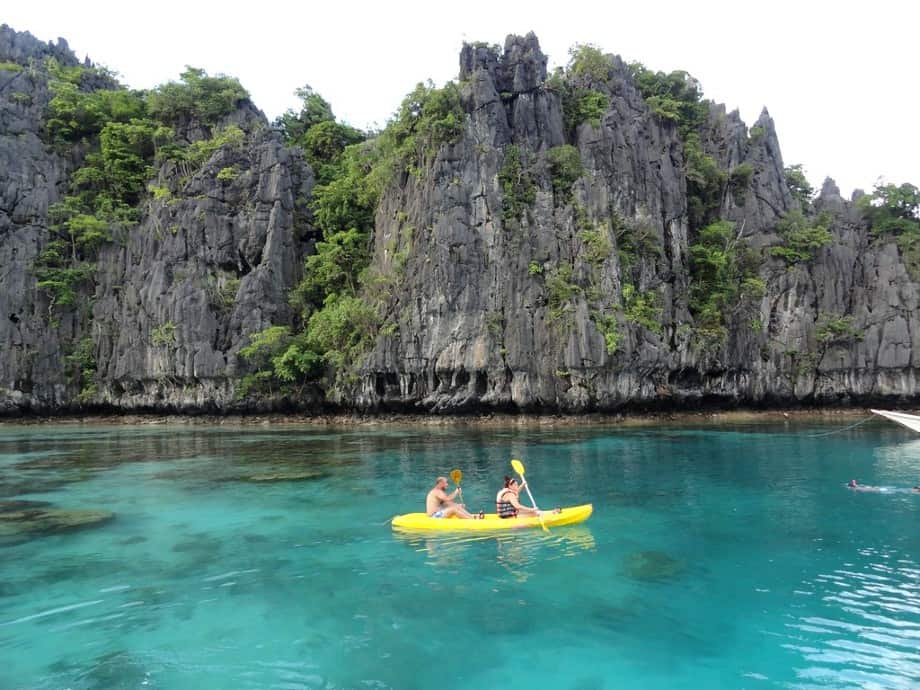 2. Nagkalit-kit falls
One little beautiful waterfall creates another little waterfall along with a shallow swimming pool. But, the journey to the waterfall can be more memorable and adventurous for you if you love hiking. You have to walk down a trodden path through sky-high palm trees through the forest and then a little off-road to find the waterfall.
3. Cathedral Caves
A secret Cave you wouldn't even know was there. You will need a local guide to find the narrow opening between rocks and cliffs to get to the cave. Inside the cave, You will come to an almost out-of-place goonies Esque sand beach with a sunshine beam streaming through a small opening in the ceiling. There are plenty of smooth ledges to climb and lots of opportunities to take photographs. After getting to E. Nido this activity is common and popular to the visitors.
4. Snorkeling
You have come to a beach area and haven't done snorkeling! That is not gonna happen here. Many organizations can take you on snorkeling tours. Snorkeling tour has got very popular here that there are 4 different leveled snorkeling tour options here. A B, C, and D.
If you try tour A, it takes you to Big Lagoon, Small Lagoon, Shimizu Island, Secret Lagoon, and 7 Commando Beach.
Tour B takes you to Pinagbuyutan Island, Snake Island, Entalula Beach, Cudugnon Cave, and Snorkeling sites in the middle of the water.
Now, Tour C visitsStar Beach, Hidden Beach, Secret Beach, Helicopter Island, and Mantinlock Shrine.
And, Tour D goes to Natnat Beach, Cadlao Beach, Paradise Beach, Ipil Beach, Pasandigan beach and Bukal Beach.
Every tour is awesome and you will have a lot of fun for sure. Every tour is fantastic. So you can even try them all.
5. Twin Beaches
The Nacpan beach and the Calitang beach together create one of the most amazing beach spots in the world. It lies on the north of El-Nido and is a popular beach spot.
The Nacpan beach is about 4km long. It has beautiful golden sand and strong waves. So it is suggested to swim only near to the beach where the wave is calmer and not to go deeper. There are bars near the beach where you can get snacks and drinks.
The Calitang beach is next to the Nacpan beach. It's a little bit smaller than the Nacpan beach.
There is a viewpoint between the two beaches. You have to climb up to the point where you can see the whole layout around you. It's super amazing.
You can rent a motorbike or tricycle to get there. But it would be a better option if you could find an ATV. The road is muddy. It takes about 45-50 minutes to get to the beach from El-Nido town.
6. Small Lagoon
You will feel like you are entering an ancient secret place that no one knows about. The entrance creates that feeling as you will have to enter a very small gap between two rocks. The water is green and clear as usual, and warm too. Some corals and fishes blend in with the sand. Sometimes you may feel like a king of this place when nobody is around.
7. Las Cabanas Beach
The beach has everything to offer you. White sands, Clearwater, Beautiful sunset, and palm trees lining. But the extra feature that Las Cabanas Beach has is a zipline. You have to climb up some stairs to reach the landing point. Rolling upon the palm trees while enjoying the view of the ocean can give an extraordinary feeling.
8. Snake Island
You don't have to worry about snakes in here. The island is named snake island as the shape of the island is quite similar to the shape of a snake. It's full of white sands, rocks, and hills. You can come here and enjoy an hour or two. You can climb to the top of the hill where you will have a beautiful panoramic view. Climbing back down, there are floating bars where you can grab some coconut juice or beer.
It feels like you are on an adventurous journey to find treasures. The Hidden Beach is an example of what El Nido is special about. The beach is hidden and you will need some local travel guide to reach there. You can hire a boat to take you there.
10. Diving
There are many Organisations that make scuba diving easy in El Nido. If you know how to dive then there is a lot of fun waiting for you in El Nido. Diving in different spots makes it more enjoyable.
11. Taraw Cliff
If You are afraid of height this Taraw cliff walk is not for you. But if you are not, then it's gonna be an amazing walk for you. A beautiful view of El Nido and dramatic scenes can make your trip more enjoyable. It's a great photo opportunity place at a low price.
There are trip planners like ConpoyWalk and DreamWalk with whom you can start your journey. Both are about the same price. But both have their uniqueness to amaze you. we suggest you try both to get the full features of the trip.
12. Public Market
And there are also many types of public markets for shopping. These markets are situated very closely and the price of those goods is also favorable.
Those are the popular things to do in El Nido in Palawan. Without those, there are also plenty of things that can perform by visitors. Even there are also a lot of beautiful hotels to make your visit more colorful. So get ready to blast in El Nido.