Abisko National park- A Swedish Beauty
Abisko National park is the name of a beautiful place in Sweden. It provides some spectacular outdoor activities. Things you should know before visiting this park are elaborated here.
About the place
Abisko National park is situated near the northern border Swedish province of Lapland. It was established in 1909. It is about 78 square kilometers. This park is sometimes referred to as "the flower mountain" . because the mountains of this park are covered with so many mind-blowing flowers. It starts at the shore of one of the biggest lake of Sweden, Torneträska, and extends to the south-west about 15km. The takes different look in different season.
When to visit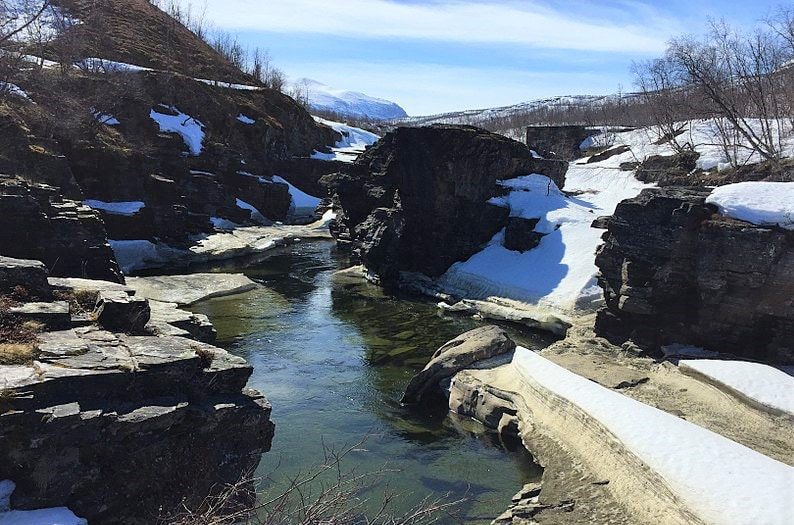 The park offers something for the visitors throughout the year. It often looks sunny. It is most colorful in the early autumn. No mosquito is found in this season. People often say this "the season of beautiful colors". One can see further as the air.
In the late autumn or in the winter one can experience the aurora borealis, polar night, snow and cold. One can also skate on the frozen Torneträsk lake which is much adventurous.
In late winter skiing lovers are most welcomed.
Summer is the best time to experience the beautiful bird life of the park and the new blooming flowers.
But the best time to visit the place is considered as December, January, February, March are the frequency of aurora borealis is at peak point.
Way to go there
You can get to Abisko national park by bus, train or car from Kiruna or Narvik. National park has a railway station is called AbiskoTurist. The bus station is called Abisko tourist station and right next to the railway station. Country transit buses go to the park also. It takes 2 hours to go from Kiruna to Abisko in bus and the cost for each ticket is 425 SEK (47$). Buses are available from September to March.
Reasons to visit
The park offers something for all the visitors in all the season. The place is best known for the aurora borealis. Travelers also enjoy the park for hiking and skiing. Many beautiful waterfalls, scenic beauty of the park, beautiful bird and animal life, the beautiful Torneträsk lake, dog sledding, camping, ice fishing, sky station of the park offer the best adventurous time for the visitors. The things to do that can impress the visitors are Narvik day trip, visiting ice hotel, reindeer experience, Aurora photo tour, motorboat, snowmobile trip, and so on. Again the nearest attraction also is the reason to visit here. Attractions are Tornetrask, Muddus National Park, Townhall, Kiruna kyrka, etc.
Things to Do in Abisko
Some magical things to do in Abisko are loved by the travelers who had magical memory in there. Explore those for your future destination.
Magical View of Aurora Borealis
Aurora Borealis offers a magnificent view of the light is also known as northern lights. On the sun with its magnetic field, this naturally occurs. It displays a different color of lights which looks so stunning. Sep-Oct and Mar-Apr are the best seasons to enjoy that.
Arctic reindeer and Dog sledding
Dog sledding between the lights is one of the most interesting things to do in Abisko. Dog sledding trip is one kind of workout as well as a thrilling job.
And in winter arctic reindeer sledding will become an adventurous one.
Explore frozen waterfalls
In winter the park becomes truly difficult and magical with snow. Climbing in the waterfall, walking into the waterfall, etc are the great things to do.
Fascinating ICEHOTEL
There will be a gap without visiting ICEHOTEL in Sweden tour. The hotel looks incredible with its unique structure. It's beauty surely impressed anyone.
skiing
Skiing is known as thrilling and adventurous recreation that also offered by winter Abisko to do.
snowmobiling trails
Make an unforgettable journey with snowmobiling in snowmobiling trails. This one will be more adventurous but you should have skilled.
Fishing and Hiking
There are you find some great spots for fishing and also trails for hiking and trekking.
Others
A lot of things are offered by Abisko that can't be finished. Some other options are Know the Sami culture, enjoying the rocks of Abiskojokk, exploring the town of Kiruna, and so on.
Facilities and Security issues
It is wise to concern about the facilities and security issues before travelling any unknown place. Abisko National Park is not beyond about it. If we are talking about the facilities then it can be said that you should not worry about it.
Nearest hotels and restaurants, shops, transports, picnic spot, hiking trails, medical centre, guider etc you need is available there.
The park is friendly for dog sledding.
Some factors that you should avoid in that park are taking away from eggs and nests, better not to make fire, damage of living trees. Select your dresses depend on the weather of the month. It is good to take first aid kit in your bag.
Visiting Abisko National Park surely amazed anyone with its beauty. Worth a visit. So you don't be hesitated to experience its natural beauty.