Georgia is a state of the United States situated in the southeastern region. For any hiking lover, Georgia is the name of the king because of its number of stunning hiking trails to hike. It offers a real hiking experience among the hikers. Here we are representing 11 hiking trails in Georgia that indeed amazed anyone.
So, let's reveal the list together.
1. Pine Mountain
Pine Mountain is such a town in Harris of Georgia that offers a fantastic trail for hiking lovers. It represents one of the longest and beautiful courses. The view and walking with rock at the path surely impress the visitors. The trail is suitable for newcomers. Pine Mountain is known as one of the best hiking trails in Georgia.
Address
2790 GA-190, Pine Mountain, GA 31822
Best Things to Do
Hiking
Trail running
Rocky
Bird watching
Wild flowers and animals
Photography
The attractions near the trail where you can go-
Wild animal safari
FDR state park
Harris county
Butts mill farm
Callaway gardens
Facilities
Restaurant on side
Nearest hotel
Picnic and party area
Medical
Self-guide tours
Toilets and so on
Best Time to Go
Usually, the morning is perfect to start. The best times to visit Pine Mountain when the weather is ideal are March (10 march) to May (20 May).
2. Stone Mountain Park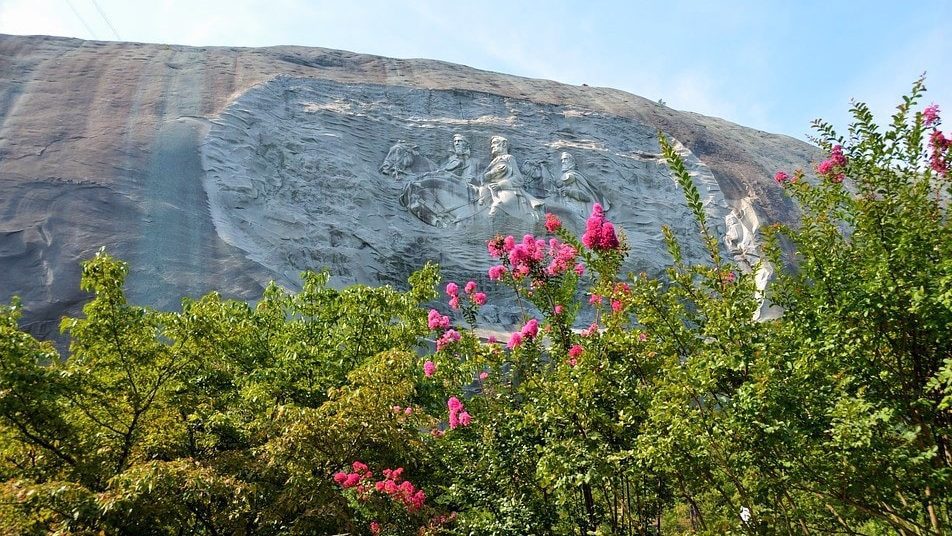 Stone Mountain Park is located at Stone Mountain that is one of the most visited places in Georgia. This beautiful park is very popular for spending outdoor adventures with family and also friends. Hiking journey along with some stunning activities make the park more attractive to the visitors.
Address
1000 Robert E Lee Blvd, Stone Mountain, GA 30083
Best Things to Do
The park is a suitable place to do so many activities that can easily do. Some are included below.
Watching live show
Shopping
Picnic and Party
Dining
Attend events and festivals
Sky ride
Golf
Nearest Attraction
It has some amazing attractions where visitors can go for enjoying those.
Summit Sky-ride
Confederate Historical Hall
Glass Shop
Snow Mountain
Stone Mountain Curving
Netherworld Haunted House
Farmers Market
NCG Cinema
Art Station
Decatur's Square
Covered Bridge
Facilities
Nearest hotel
Restaurant
Medical
Parking
Security
Best Time to Go
The best time to visit this mountain means the ideal weather favors the visitors. Mainly March to June is a perfect time.
3. Anna Ruby Falls
A pair of beautiful waterfalls represented the Anna Ruby Fall that is situated in the Chattahoochee National Forest. It is an ideal fall to hike at a day. The fall is known as one of the most premium hiking falls in Georgia.
Address
3455 Anna Ruby Falls Rd, Helen, GA 30545-2333
Best Things to Do
The activities that you can do here are-
Fishing
Wildlife viewing
Picnic
Waterfall and Creeks viewing
Bathing
Nearest Attraction
The places that can attract the visitors-
Unicoi Zip Line and Aerial Adventure Park
Unicoi State Park
Bavarian Mountain Miniature Golf
Horse trough Falls
Nacoochee Adventures
Sunburst Adventures
Chattahoochee River
Cool River Tubing
Dukes Creek Falls Trail
Yonah Mountain Vineyards and so on
Facilities
Free Parking
Gift shop
Hotel
Restaurant
Toilets
Medical
Picnic area
Public restroom
Security ete
Best Time to Go
Mainly April to May is the perfect time to visit here.
4. Tallulah Gorge
Tallulah Gorge is situated in North Georgia known as one of the most amazing destinations for hiking lovers. The waterfalls and the stunning gorge make it very special. Some other activities are also included in the place.
Address
338 Jane Hurt Yarn Rd, Tallulah Falls, GA 30573
Best Thinks to Do
A lot of things are available here to do.
Hiking
Biking
Fishing
Picnic and Program
Swimming
Rock climbing
Waterfalls viewing
Archery
Water paddling
Nearest Attractions
Take a look at its nearby attractions.
Minnehaha Falls
Southeastern Expeditions
Chattooga Ridge Canopy Tours
Wildwater Rafting
Apple Mountain Alpacas
Chattooga Belle Farm
Alpine Village of Helen
Blue Ridge Mountains
Lake Russell WMA
Facilities
Parking
Public Room
Hotels
Restaurant
Playground
Picnic Spot
Gift Shop
Security
Best Time to Go
The best times are divided into two categories.
April to May
September to November
5. Yonah Mountain
Yonah Mountain is located near Helen in Georgia. It is represented the beautiful wildflowers and rocky ground. Backpacking and camping are suitable for this trail.
Address
1900 Chambers Road, Cleveland, GA near Helen, GA, Helen, GA 30528
Best Things to Do
Hiking
Camping
Forest viewing
Bird watching
Trail running
Wildlife
Nearest Attractions
Minnehaha Falls
Nacoochee Adventures
Bavarian Mountain Miniature Golf
Nora Mill Granary
Yonah Mountain Vineyards
BabyLand General Hospital
Alpine Mini Golf
Habersham Vineyards & Winery
Unicoi State Park
Facilities
Parking
Hotels
Restaurants
Dog Friendly
Medical
Toilets
Tour Guide
Best Time to Go
Usually from February until November is the ideal time to make an amazing adventure on this trail.
6. Raven Cliff Falls
Raven Cliff Falls represented beautiful waterfalls located at White County in Georgia. The trail is also famous among visitors. This place is suitable for all ages of people and it is offered a number of outdoor activities.
Address
3000 Richard Russell Scenic Hwy, Helen, GA 30545
Best Things to Do
Look at a glance at the falls activities.
Hiking
Fishing (fresh or saltwater)
Trail running
Wild bird and animal watching
Swimming
Nature viewing
Camping
Rocky adventure
River ride
Nearest Attractions
So let's check it out.
Dukes Creek Falls Trail
Helen Tubing and Water Park
Unicoi Zip Line and Aerial Adventure Park
Bavarian Mountain Miniature Golf
Nacoochee Adventures
Unicoi State Park
Brasstown Bald Mountain
Vogel State Park
North Georgia Zoo
Facilities
Kids and Dog friendly
Nearby hotels
Food shop
Public toilet
Tour guide
Best Time to Go
Depending on the weather it is said to be that March to May is the best time to visit the falls.
7. Vickery Creek Trail
Another beautiful trail for hiking is situated in Roswell. It is one of the best hiking trails in Georgia The stunning waterfalls and natural view make the trail attractive to the visitors.
Address
Roswell, GA 30075, USA
Best Things to Do
Things you can do here are-
Obviously hiking
Swimming
Trail running
Fishing
Paddle sports
Korsi Yoga
Picnic
Viewing wildlife
View of waterfalls
Nearest Attractions
Here we go-
Old Mill Park
Masterpiece Mixers Paint & Party Studio Roswell
Barrington Hall
Roswell Ghost Tour
Red Door Playhouse
Bulloch Hall
Archibald Smith Plantation Home
Chattahoochee Nature Center
Chattahoochee River
Georgia Ensemble Theater
Topgolf Alpharetta
Facilities
Parking
Hotels and Restaurants
Dog friendly
Security
Best Time to Go
There is no such perfect time to go here. You can visit any month of the year preparing yourself for the weather.
8. Appalachian Trail
Appalachian Trail is located in the eastern United States. Usually, it is very applicable for those who want to go for a long hike.
Address
799 Washington St, Harpers Ferry, WV 25425
Best Things to Do
Here we see about the things that you can do.
Long or short Hiking
Running
Camping
Picnic
Riding
Nature viewing
Nearest Attractions
Here we find out about the attractions.
Little Washington Winery
Virginia Canopy Tours
R.H. Ballard Shop & Gallery
Glen Manor Vineyards
Dickey Ridge Visitor Center
Little Devil's Stairs Trail
Facilities
Parking
Hotels
Food
Medical center
Public rooms
Security
Best Time to Go
Depending on some factors the ideal time is mid-March to mid-April.
9. Cloudland Canyon
Cloudland Canyon is standing on the western edge of Lookout Mountain. It is one of the largest and beautiful state parks. Its many kinds of wealth give us the opportunities to do many outdoor recreations.
Address
122 Cloudland Canyon Park Rd, Rising Fawn, GA 30738
Best Things to Do
Hiking
Golfing
G3 Adventures
Fishing
Camping
Biking
Picnic
Wedding (need approval)
Caving
Geocaching
Nearest Attractions
Here we are given the attractions near the place that can attract you.
Lookout Mountain Hang Gliding
Wilderness Outdoor Movie Theater
Lula Lake & Land Trust
Uncle Lar's Outpost
Trenton Golf Club
Rock Creek Aviation
Howard's Waterfall Cave Preserve
Incline Railway
Resaca Battlefield
Tennessee Aquarium
Rock City
Facilities
Parking
Tent
Gift shop
Playground
Picnic spot
Tour guide
Security
Best Time to Go
Morning is the best time to go hiking. Mainly from mid-March to late May is the perfect time to go the trail.
10. Blood Mountain
Blood Mountain is one of the popular outdoor activities. It is the highest trail in Georgia.
Address
Chattahoochie National Forest, GA, 30512
Best Things to Do
Activities you can do here-
Camping
Hiking
Nature viewing
Fun sports
Photography
Picnic
Nearest Attractions
Nearest attractive places of Blood Mountain-
Mountain Crossings
Helton Creek Falls
Vogel State Park
Brasstown Bald Mountain
Meeks Park
Sunrise Grocery
Desoto Falls
Byron Herbert Reece Farm and Heritage Center
Sundance Gallery
Russell-Brasstown National Scenic Byway
Facilities
Parking
Foods
Tent
Family friendly
Medical
Security
Best Time to Go
March-November is the best time for visiting Blood Mountain.
11. Panther Creek Falls
Panther Creek Falls is one of the most stunning and popular falls in North Georgia. It has beautiful waterfalls. The falls are also popular for hiking.
Address
NF-65, Carson, WA 98610
Best Things to Do
Let's find out the activities-
Hiking
Fishing
Swimming
Picnic
Photography
Waterfalls viewing
Water sports
Nearest Attractions
Like others fall it also has nearest attractive places. They are-
Tallulah Gorge State Park
Minnehaha Falls
Apple Mountain Alpacas
Southeastern Expeditions
Chattahoochee National Forest
Toccoa Falls
Tallulah Point Overlook
Angel Falls Trail
Fern Valley on the Soque
Facilities
Parking
Food and Tent
Rest house
Nearby medical
Tour guide
Security
Best Time to Go
Generally, summer and fall are perfect times. So March to November is regarded as the best time to go.
So these are the best 11 hiking trails in Georgia.
Without these, there are also some stunning and amazing hiking trails too. Actually, Georgia is the place that connected hiking lovers to its world. Like the Europe tour, the Georgia hiking tour is also popular with visitors. So be prepared to accept the adventure of Georgia hiking.