The decision of whether to sleep on a mattress or a hammock boils down to personal preferences and individual needs.
Sleeping on a mattress can provide a stable surface that evenly distributes weight and supports the body's natural sleeping position. Plus, it can offer cushioning and insulation, perfect for chilly nights.
But, if you're looking for something unique, a hammock may just do the trick. Hammocks have the ability to contour to your body, which can reduce pressure points and promote better circulation. Plus, the gentle swaying motion can help you drift off to sleep faster and improve the quality of your slumber.
Moreover, people with certain medical conditions, such as back pain, can benefit from sleeping in a hammock, as it can alleviate pressure on the spine and improve spinal alignment.
All in all, your decision to choose between a mattress and a hammock should depend on your personal comfort and needs. It's a good idea to try both options to see which one works better for you.
At A Glance
Extra Big: Gold Armour Extra Large Camping Hammock
Best Overall: Legit Double Camping Hammock
Premium Pick: Easthills Outdoors Camp Hammock with Mosquito Net
All-Rounder: Wise Owl Outfitters Hammock Camping Double
Budget Friendly: WINNER OUTFITTERS Nylon Parachute Camping Hammock
Excellent Combo: Kinfayv Camping Hammock with Mosquito Net & Rain Fly
Brand value: Kootek Portable Camping Hammock
Ultra Capacity: MalloMe Double & Single Portable Hammock
Things to consider when choosing a Hammock as a Big Guy
"As I'm tall and big, maybe the one which is longer than my height will be suitable for me". Wrong, that can't be the right way to choose the best camping hammock for big guys. Several factors are associated with it and those are discussed in this section.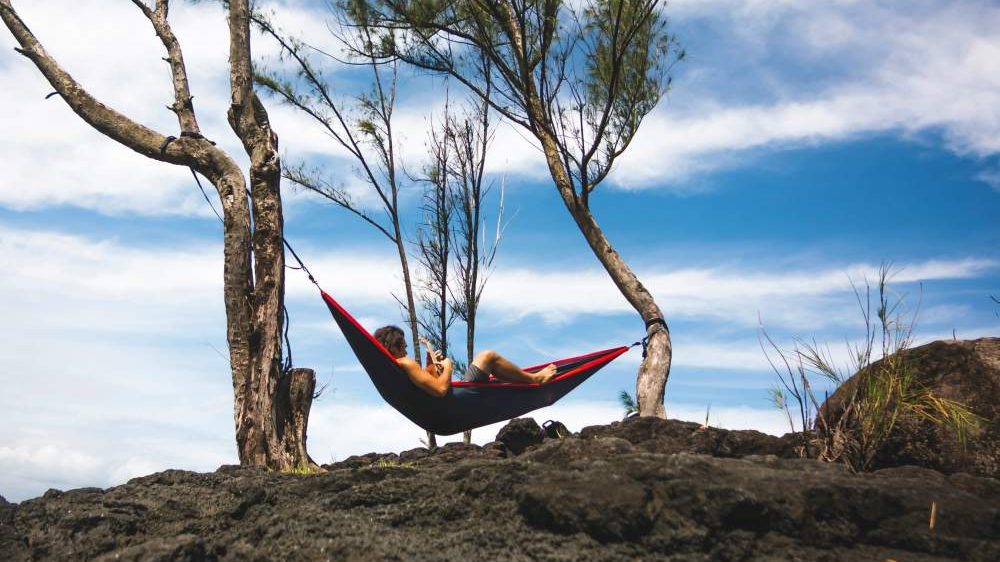 What Dimension do You Need?
If you search for a hammock, you may find a variant dimensional hammock. But the question is "which length and height are ideal for taller people?"
For length, you have to look for one which is more than 9 feet or more. Don't go for a size that is slightly bigger than your size. The reason is it will be quite small to you. So, make you're your selected option bears 110 inches plus in size.
Now, if you think about the width, then 6 feet or more will be comfortable for the big. Furthermore, if you intend to share the hammock with more than one then you may need an even larger width. However, as a single person, don't go for such a large option where you discover yourself as claustrophobic. So, on average, the width of a big camper should be more than 72 inches.
Capable of Hold Your Weight?
When it comes to weight capacity for hammocks, the market offers a wide range of options from 150 to 1000 pounds. But which one should you choose?
Well, the answer depends on your size and weight, and selecting the right weight capacity for your hammock is crucial.
If you're a larger person, it's best to go for a hammock with a capacity of more than 400 pounds. For heavier individuals, look for a hammock with a capacity of at least 500 pounds. And if you're a couple planning to share a hammock, make sure to choose one with enough capacity to handle both of your weights.
To ensure a safe and relaxing hanging experience, it's essential to pay attention to the manufacturer's claims about weight capacity. So, take your weight into consideration and choose a hammock that can safely support you.
Build with Quality Material?
Depending on the weather, durability, and comfort, you have to determine which quality materials you need. Look for a durable and long-lasting hammock that can resist tear or fraying.
Now, in the case of summer camping, the nylon materials are perfect where you will get a breathable, comfortable, and lightweight feeling. And for winter, try those which will give you the facility of insulation and softness to keep yourself warm.
So, measuring those facts material quality needs to confirm.
Bears Good Suspension System?
A suspension system is a crucial element in hanging a hammock from trees or other objects. Straps, hooks, and other materials can be used, but there are some things you need to consider before making your choice.
Firstly, make sure the straps are long and sturdy. This will provide maximum support and make the setup process easier. Look for hammocks that offer multiple hook options, as this can be a significant advantage. However, it's important to consider the environment and choose materials that won't harm the trees or wildlife.
If you're a larger individual, it's not recommended to use nylon straps, as they tend to stretch and could increase the risk of falling. So, keep this in mind when selecting your suspension system.
Choosing the right suspension system is critical for ensuring a safe and enjoyable hammock experience. So take the time to consider the options and select a system that suits your needs and respects the environment.
How Portable it is?
Now, let's consider portability as another important factor. After taking into account the previous points, it's essential to look at how easy it is to travel with your hammock. One way to determine this is by checking its weight. The lighter it is, the more effortless it will be to carry around.
For beginners, it's recommended to choose an option that offers straightforward setup and operation.
In summary, select a hammock that provides easy and simple operation, while also being lightweight and portable. This will ensure a hassle-free and enjoyable experience, whether you're camping, hiking, or just lounging in your backyard.
8 Best Camping Hammocks for Big Guys
Now, our user's experienced selection that will be given in below is most capable to handle you with your long height and weight. Well then go forwards to meet you with your sleeping partner.
1. Gold Armour Extra Large Camping Hammock
Gold Armour offers an excellent choice for tall people with its standout features and packaging.
The model boasts a spacious 125 X 79 inches size, providing a comfortable 10.4 feet in length and 6.6 feet in width. This measurement should be sufficient for individuals with a larger height.
Constructed with 210T nylon, this hammock is both sturdy and comfortable. Although some customers reported issues with the thin fabric and poor breathability, this does not appear to be a major concern for most users. According to the manufacturer, it can hold up to 500 pounds of weight, making it perfect for those with more weight and height. Additionally, this hammock can be used for couples or two individuals, as it offers ample room and strength capacity for two people.
The default color scheme is blue and gray, but the brand offers a wide range of colors to accommodate different preferences. However, there may be a slight color difference between the advertised picture and the actual product.
The exceptional and high breaking point straps have a breaking strength of 1000 pounds, surpassing other brands. These straps are also quite long, measuring 10.1 feet in size, making it easier to tie up to trees while still being tree-friendly. Moreover, it has 16 attachment loops, making the setup process easier and quicker.
The hammock features triple stitching, ensuring superior support and low stretch for hammock campers. At only 2.1 pounds, this lightweight hammock is perfect for backpacking travelers. Lastly, the price tag is quite reasonable.
In conclusion, I recommend this hammock to those who desire a larger size and high capacity lightweight hammock that is easy to operate.
Pros
Perfect for so big people or couples as it has a huge size and weight-holding capability
Several color options where you never miss your desired one
Not heavy and good at portability
Very much appreciated on packaging as it gives several things on the box
Good for beginners as it provides a strong, easy, and quick set-up
Cons
Thinner and low-breathable material may disappoint someone
It has a few complaints about not exact match color
2. Legit Double Camping Hammock
Legit is a quality name in the hammock industry that delivers excellent camping performance, especially for taller individuals.
Measuring 120 inches in length and 72 inches in width, this hammock can comfortably accommodate your entire body. And if you're looking to share it with someone else, there's plenty of space to spare. With a large design and a capacity of 500 pounds, Legit can easily accommodate larger individuals.
Crafted with 210T nylon, this hammock is not only durable but also comfortable and soft to the touch. Additionally, the 75D material ensures breathability and cool airflow, making it an ideal choice for warm weather camping. Triple-stitching adds to the hammock's durability and prevents stretching. And despite its high-quality construction, it's surprisingly lightweight and compact.
Nylon straps are included for added support and easy setup, and can withstand up to 1000 lbs of weight. The steel carabiners are durable and reliable, and the tree-friendly design makes for easy and fast hanging. However, some users have noted that the straps are too short for their needs.
With a wide range of colors to choose from, Legit also comes with a handy stuff sack for storing your essentials. And all these quality features come at an affordable price with a lifetime service guarantee.
Pros
Durable and breathable as it has high-performing materials
Large size and strength capacity to use as tall or double
Different color options
Good for fresher as it offers lightweight compactable, and easy setup
The price and user service are quite satisfactory
Cons
The short straps can be disliked by you
3. Easthills Outdoors Camp Hammock with Mosquito Net
The Easthills Outdoors hammock is an all-in-one option with premium features and output that's hard to beat.
Notably, this hammock has great dimensions, making it perfect for larger people. Measuring 9.8 x 6.6 feet, you'll never feel cramped. If you're sharing it with someone, there's plenty of space for two average-sized people or three kids. The company claims that it can hold up to 700 pounds, so you can sleep soundly knowing that you're secure.
The hammock is constructed with 210T Taffeta, a strong, soft, and breathable material that can withstand the test of time. The integrated SBS is designed to bear pressure in key areas and prevent your bed from tearing. Additionally, the triple stitch seams make the hammock durable and insect-free.
Thanks to the 2500 hole square/inch mesh, you won't have to worry about pests or insects. The net is removable, easy to operate, and quiet, but some users have reported that it's not as effective at keeping mosquitoes away.
Setting up the hammock is effortless thanks to the included hanging system that comes with everything you need to get started. Tree straps, loops, carabiners, net ropes, stakes, and guyline make the setup process quick and easy. Plus, the rainfly ensures that you stay dry in any weather conditions.
As an added bonus, there are two tiny pockets included for storing your wallet, phone, or other essentials. Currently, the hammock is available in two colors: blue and red. Despite being slightly more expensive than other options on the market, the Easthills Outdoors hammock is worth the investment thanks to its premium features and included items.
Pros
Good fitted and support two people or large guy because of the extra length
Very sturdy and can be capable of up to 700 pounds.
A comfortable, durable, and breathable experience by its quality elements
Provides bug net and insect-free fabric design
Excellent in suspension with its strong and several set-up items
The brand provides a weather-proof rainfly and a little pocket for storage
Cons
Users aren't satisfied with the output of the bug net
Beginners may feel difficulty because of lacking directions
4. Wise Owl Outfitters Hammock Camping Double
Wise Owl Outfitters is a trusted camping brand, and this particular hammock is one of their top-quality, longer models.
Designed with larger individuals in mind, this hammock boasts a spacious size of 10 by 6.5 inches, with a weight capacity of almost 500 pounds. You can rest easy knowing that your body will be fully covered and supported.
Crafted from durable and comfortable 210T fabric, this hammock is both lightweight and breathable, making it highly portable. However, some customers have reported issues with the fabric tearing easily. The good news is that the hammock comes in many different colors, so you can choose the one that suits you best.
The package includes carabiners and straps, which are long enough to tie securely to trees without causing any damage. The loops are also adjustable, allowing you to customize the height to your liking. And the best part is that setup is a breeze, taking very little time and effort.
One added bonus is the stuff sack that comes with the hammock, providing a convenient place to store small items.
So, when should you choose this hammock? If you're in search of a popular brand with great customer service that can support larger individuals, then this option is definitely worth considering.
Pros
Light and comfortable experience with 210T fabric
It provides large space and strength for double or tall people
This one has little storage and multiple colors
Has a good portable character and quick setup
Cons
The straps and thin fabric could be enhanced
5. WINNER OUTFITTERS Nylon Parachute Camping Hammock
Wise Owl Outfitters is a reputable camping brand known for producing top-quality hammocks, and this longer model is no exception.
Designed to comfortably accommodate larger individuals, this hammock is incredibly spacious, measuring 10 by 6.5 inches and boasting a weight capacity of nearly 500 pounds. You can relax and unwind with confidence, knowing that this hammock will provide the support and coverage you need.
Constructed from durable and comfortable 210T fabric, this hammock is lightweight, breathable, and easy to transport. While some customers have reported issues with the fabric tearing easily, there are many color options available to suit your preferences.
The hammock comes complete with carabiners and straps that are long enough to securely attach to trees without causing any damage. The adjustable loops allow for customization of the height, and setup is quick and easy, requiring minimal time and effort.
The included stuff sack provides a convenient storage solution for your smaller items, adding to the overall convenience of this hammock.
If you're looking for a trustworthy brand with excellent customer service that can accommodate larger individuals, this hammock is a solid choice.
Pros
It has perfect width, length, and weight power for using tall or two
Offers a smooth airflow fabric experience
You can set it up easily and fast with included items
Provides easy carrying for camping, beach, or any outdoor trip
It offers great value
Cons
The laying can be a little bit stretchy
6. Kinfayv Camping Hammock with Mosquito Net & Rain Fly
The Kinfayv Camping Hammock is a top-quality option that provides an exceptional combination of features and resembles a hammock tent.
With a weight capacity of up to 600 lbs, this double hammock is incredibly spacious, measuring 9.8 and 6.5 feet in length and width, respectively. You'll have plenty of room to stretch out and relax without any worries.
The brand uses a 210T parachute fabric to ensure that the hammock is lightweight, durable, and breathable. While it only comes in black and red, this hammock is a strong and portable option that you can take with you anywhere.
What sets this hammock apart is the included package. It has everything you need to set up and enjoy your hammock. The three strong and long straps, 13 loops, steel carabiners, net ropes, guylines, and stakes make for a fast and adjustable suspension system. Plus, the stitched seam prevents any stretching, ensuring a sturdy hang.
This hammock also comes with a rainfly and mosquito net, providing excellent protection from the elements and insects. The rainfly is 120 x 120 inches and can shield you from the sun and keep you dry in wet conditions. The net is easy to tie and remove and will keep bugs and other critters at bay.
But wait, there's more! The package also includes a pillow, bracelet, eye mask, and setup instructions. And, like other hammocks, it has a built-in stuff sack that can be used to store items or packed into the hammock itself.
In conclusion, if you're a larger individual in search of a high-quality hammock with all the necessary features, Kinfayv is an excellent choice. The included package and exceptional quality make it a premium option that is hard to beat
Pros
The Kinfayv has sufficient length and width to comfortably cover the taller or double body
It can bear up to 600 lbs weight without any stress
Included a tarp and net to protect from insects and the sun
That one has a very simple and effective suspension way
It offers plenty of goods on the package that all have great use on the trip
Cons
There is only one color variant
The side seems higher to someone
7. Kootek Portable Camping Hammock
Kootek is a top hammock brand that offers excellent performance at an unbeatable value, especially for tall individuals.
With dimensions of 118 (L) x 78 (W), this hammock is ideal for taller individuals or even two people. Its weight capacity is also impressive, boasting a capacity of up to 500 pounds, so you can sleep peacefully without worrying about falling or discomfort.
Crafted from 210T parachute nylon, this hammock is both durable and breathable, offering protection against fraying and tearing. It is also lightweight and comes in a variety of colors to suit your style preferences.
The two adjustable and eco-friendly straps are approximately 10 feet long and feature loops for easy setup. While some customers have reported poor strap quality, the numerous warping options make up for it. The sturdy carabiner also enhances durability and weight capacity during hanging, providing an effortless way to install and explore.
The hammock comes with a storage bag designed with a drawstring for easy attachment to your backpack and a sack pocket for light storage. Unlike other brands, Kootek's build quality protects against dirt and allows for quick washing, ensuring a super clean hammock. All of these facilities come at an affordable price, making it a top choice for anyone seeking comfort and convenience while camping or backpacking.
Pros
Large size provides enough area and capacity for the large man, couple, or with kids
The fabric is too durable and dirt-free
It offers simple installation with an excellent carabiner and customized straps
It builds with a drawstring bag and lightweight design for smart attaching and carrying
The brand is popular, trustable, and cheap
Cons
Users aren't satisfied with the quality of the straps
8. MalloMe Double & Single Portable Hammock
Looking for a hammock that can handle your weight and offer plenty of space? Look no further than the MalloMe Hammock! With its 9.8-foot length and 6.5-foot width, you'll have plenty of room to stretch out and relax. But the best part? This hammock can support up to an incredible 1000 pounds!
Made from durable parachute nylon, the MalloMe Hammock is the perfect choice for couples, families, and anyone who needs a little extra space. And with almost 20 color options to choose from, you're sure to find one that suits your style.
Setting up this ultralight hammock is a breeze thanks to the high-quality straps, carabiner, and ropes. And at less than 2 pounds, it's the perfect choice for backpacking, hiking, kayaking, or relaxing on the beach. Plus, the attached sack pocket makes packing and carrying a breeze.
So, if you're a big guy looking for a hammock that can handle your weight and offer plenty of space, the MalloMe Hammock is a perfect choice. Don't settle for a hammock that's too small or can't support your weight – choose the MalloMe Hammock for a comfortable and worry-free camping experience.
Pros
Huge weight capacity which is 1000 lbs
It deals with good equipment and less time for setting up
It has a stuff sack for storage for the hammock or else
This one is lightweight and usable in various outdoor activities
Cons
There found less durability for long uses and poor airflow
Does hammock Camping Cause Back Pain?
Though a hammock is fun and comfortable laying, some people are still have confusion about the risk of back pain. For that reason, they frequently search whether it is good or not for their back. Well, let's discuss it.
Practically, the hammock isn't a bad one for bringing bad problems at all. Oppositely, it has many health and other benefits to inspire one to taste the relaxing feel. But there is a chance of back pain in some circumstances. So, what're those?
A man who got previously a bad back or has a problem with spinal or scoliosis can be faced pain on that trip. So if you have pre-issues on your back, then you may stay in the risk zone. But that doesn't mean all of them surely face back pain. A very little percentage of bad back people will mainly go through that. So, to avoid the risk you can talk with the doctor before hitting the trip.
Furthermore, if your hammock setting won't be done correctly and then you will sleep in the wrong position, then it may also bring pain to your backside.
So, in the last step, we can say, the hammock itself isn't a bad factor in causing lower back pain.
Frequently asked questions
What is the weight limit for a camping hammock?
The weight limit for a camping hammock can vary depending on the specific model and brand. However, most camping hammocks are designed to hold between 250 and 500 pounds. It is essential to check the weight limit before purchasing a hammock and ensure that it can support the weight of the person who will be using it, as well as any additional gear they may have with them. Overloading a hammock beyond its weight limit can be dangerous and cause damage to the hammock or injury to the user.
Is it OK to sleep in a hammock while camping?
Yes, it is generally okay to sleep in a hammock while camping. In fact, many people prefer sleeping in a hammock over a tent because it provides a unique sleeping experience and can be more comfortable.
However, there are a few things to consider when camping in a hammock. First, make sure you have a proper hammock designed for sleeping, rather than a simple rope or fabric hammock. Look for a camping hammock with a sturdy frame, comfortable material, and mosquito netting if necessary.
Secondly, you will need to ensure that you set up your hammock correctly. Choose a location with sturdy trees or other anchors that are the appropriate distance apart for your hammock. Make sure your hammock is securely attached to the anchor points and that it is level and not too tight or too loose.
Lastly, consider the weather and temperature when camping in a hammock. Hammocks can be colder than tents, especially if there is wind or drafts, so you may need additional insulation or layers to stay warm.
Overall, as long as you have the right gear and set up your hammock correctly, sleeping in a hammock while camping can be a comfortable and enjoyable experience.
Is it safer to camp in a tent or hammock?
Both camping in a tent and a hammock have their own advantages and disadvantages in terms of safety.
Camping in a tent can provide better protection against the elements, such as rain, wind, and cold weather. It also provides a more enclosed space that can keep out bugs and wildlife, which may be a concern in some areas. Tents can also be more stable and secure in high winds or storms.
On the other hand, camping in a hammock can be safer in areas where there are dangers from the ground, such as snakes, insects, or flooding. It can also be more comfortable for some people, as sleeping on the ground can be hard and uncomfortable.
However, it is important to note that the safety of camping in a tent or a hammock ultimately depends on various factors, such as the location, weather conditions, and your level of experience and preparation. It is essential to do your research, assess the risks, and take the necessary precautions, such as choosing a safe and suitable campsite, using proper gear, and bringing necessary supplies for emergencies.
Is it better to sleep on a mattress or a hammock?
Whether it's better to sleep on a mattress or a hammock depends on personal preferences and individual needs.
Sleeping on a mattress provides a flat and stable surface that can distribute weight evenly, supporting the body in a natural sleeping position. It can also provide more cushioning and insulation, making it more comfortable in colder temperatures.
However, sleeping in a hammock offers unique benefits. Hammocks can conform to the shape of your body, reducing pressure points and promoting better circulation. They can also provide a gentle rocking motion that can help you fall asleep faster and improve the quality of your sleep.
Moreover, sleeping in a hammock can be beneficial for people with certain medical conditions, such as back pain, as it can help alleviate pressure on the spine and improve spinal alignment.
Overall, the choice between sleeping on a mattress or a hammock comes down to personal preferences, comfort, and specific needs. It is best to try both options and see which one works better for you.
Conclusion
Being big isn't bringing any problem to camping, it's a matter of choosing the wrong gear that creates suffering. And we hope, you have now enough suitable options to pick from. So, in your verdict, which one is the winner as the best camping hammock for big guys? If you ask me, then I tell everyone is the winner by measuring their variant capability.
So, don't be worried, pick up your required options and stay pretty sure that it won't upset you at all. In the end, Stay big, explore big and be safe.
Related Reads