Probably you can meet the need for a tarp without caring about the size. But there is a word "right-size" without it you can't expect the true flavor of a camping tarp. The necessity or emergency uses of a tarp in different sorts of camping aren't unknown to you I think. But do you concern about what size tarp for camping you should take?
Well, the term hasn't one answer. It measures several facts and then will tell you the size that you require. So, to figure out the right tarp size you have to scroll down and filtered your desired type.
4 Considering Facts to Find out the Right Size Tarp
As far as I remembered there wasn't much rain during my camping in Georgia. We took the tarp to place under the tent, but the rain forced us to place it as a rain shelter. But else! It couldn't cover the tent fully and worked as the worst shelter. All tarps aren't able to support you in different circumstances.
So, buying a tarp isn't the solution. Measuring all terms, dealing with a suitable size is desirable. Okay, now let's know the facts that you should keep notice to determine the tarp size.
1. Sorts of Camping
You know, despite a single word camping is sorted into many categories. The most common and popular forms are-
Tent Camping
Car Camping
Hammock Camping
So, why I mentioned those I hope you got. Yeah, the thing that you should look at first is the type of camping you will plan.
It matters a lot. What happens when you will under a tent? You need to have a tarp which will cover the whole tent, for both under or above use. And the length and width of your tarp need to increase while you will on car camping. 
Again, the image will be different when you will use it above the hammock.
So, before going for any size first think of the way you want to camp.
2. The Purpose of Uses
Surprisingly the tarp bears so many usable characters that you mightn't think of before. So, what are the main necessities of a tarp?
Rain and Sun protector: The most common use is as a protective shelter for sun, snow, rain, or else. For that, you have to keep up your tent or hammock. In this term, the size depends on the full area you place your bed.
Ground proof: Another usual use of the tarp is in the ground. It is because of moist free or insulation. To keep your tent or bed ground water-free and comfortable, a tarp serves superbly. Here, the size should take a little bit larger than your bed dimension.
Shade and shelter: Sometimes tarps give a chance to utilize as a shade or shelter. On the outdoor trip, it's not wise to open the tent all the time. And on this situation, you will need to stay in the shade where the tarp can do so. Again, in summer it will allow you to chill with the members under the tarp. For that, you don't need a big one.
As a Windbreaker: One of the common tasks that you do while staying in nature is a windbreak. Pleasingly, tarps play here an excellent role as a windbreaker.
On Campfire and Kitchen: Cooking and campfire both are very expectable on camp. To cook, you need shelter. On the other hand, during bad weather, you can still enjoy on campfire just by placing a weather-protective tarp. In those conditions, a normal size tarp is much okay.
So, for which purpose you want to buy a tarp is more helpful to determine the size.
3. Number of Member
Number measurement is one of the essential facts among those. Member means those people who are camp with you.
On a trip, you can go with your friends, with family or even alone too. And depending on the number, it has determined which type of bed (tent, hammock, etc) you basically require.
And that fact directly impacts the size of your tarp. If you stay single, then obviously you need a small one where more members mean more space to cover.
That's why the number matter you should keep it in mind.
4. Carrying and Maintenance
On the last point, what else you should remember for a perfect size camping tarp? Well, I keep the maintenance and transport facility in here that also important as previous ones.
The weight of your item is largely related to the carrying section. Simply, more weight means more hassle to carry. That doesn't a problem at all on a car or heady camping. But when your thinking is on backpacking then it may be a worry for you. So, keep notice that your trip won't be spoiled just supporting one problem.
Furthermore, maintain effort also more on big sizes. Cleaning and storage will have seemed more struggle when you deal with the large.
In fact, it's completely up to you on which side you will give more priority.
What Size Tarp for Camping: Tent, Car, and Hammock
Don't know which type of camping tarp you are searching for. But in this heading, we discuss the sizing matter in three categories. I hope our effort won't fail to answer the size you need for. Okay then, let's continue.
For Tent
The tent is one where tarps are used most. It comes with different uses.
You may want to keep it under or over the tent. Furthermore, you may camp with family, friends or even single. So, in every aspect, you need to deal with different types of sizes. So, how big of a tarp for camping? Now, it's time to know all about tents and tarps.
There is a question frequently asked, "Do I need larger tarps than my tent?"
Yes and no, both have existed in this question.
For Under Tent: Practically, campers use under tent tarp to keep it dry, clean, water-free, and insulated also. So, in this view, what the size should be?
The calculation is related to the floor size of your tent. Suppose, your tent bed measurement is 10' then it's the wrong way to go as same as this size. To perfect set up, a 7-12 inches larger tarp than the floor is an ideal choice.
For example, the 9' x 7' (family tent) floor needs a 10' x 8' tarp. And if you have 7.7′ x 3.2′ then go for 8' x 4' size.
For Over Tent: Usually tarp over the tent place for shade, rain shelter, windbreaker, and so on purposes. To determine the size, you can follow a little trick.
Try to select the size about 3/4 feet larger in both width and height than the tent.
If you are single and have a tent floor of 7.7′ x 3.2′ then 10' x 6' will be suitable for you. Again, with the 9' x 7' family tent, the tarp measurement will be 13' x 11'.
However, we create a poll over the best sizes of tarps for tent camping. And we found that 10′ x 10′ and 10′ x 8′ got more votes as the best tarp to use for a two or three-person tent. Additionally, 10′ x 12′ also got more votes where you can camp with more people.
By the way, some outdoor lovers prefer a little bit small tarp in very hot weather than previous because of making an easy way of ventilation.
So, that's all about, how and what sizes are suited based on your tent.
For Car Camping
Camp in the car is one of the popular ways to stay in nature. There have been so many controversies on sizing the tarp for it. Some prefer small while some say big will be the best. So, what is the best tarp size for camping in the car?
Well, from my own experience, along with the expert opinions, 12' x 12' is the perfect dimension in this regard. With that size, you will be able to cover the shelter, from rain, a picnic table, or an empty room. Many ones use the 10' x 10', which seems worst in rain protector and in space to me. With a tiny vehicle and as a single it is okay to use this size.
By the way, if you want to camp with large members and need more space, then we recommend you 15' x 15'. This is because, in this big size you won't be worried about rain, space for cooking, for a table and also for the camp chair. All of the necessary things you can do under this large coverage. However, you require more maintenance to deal with large sizes. But it's not a major problem at all.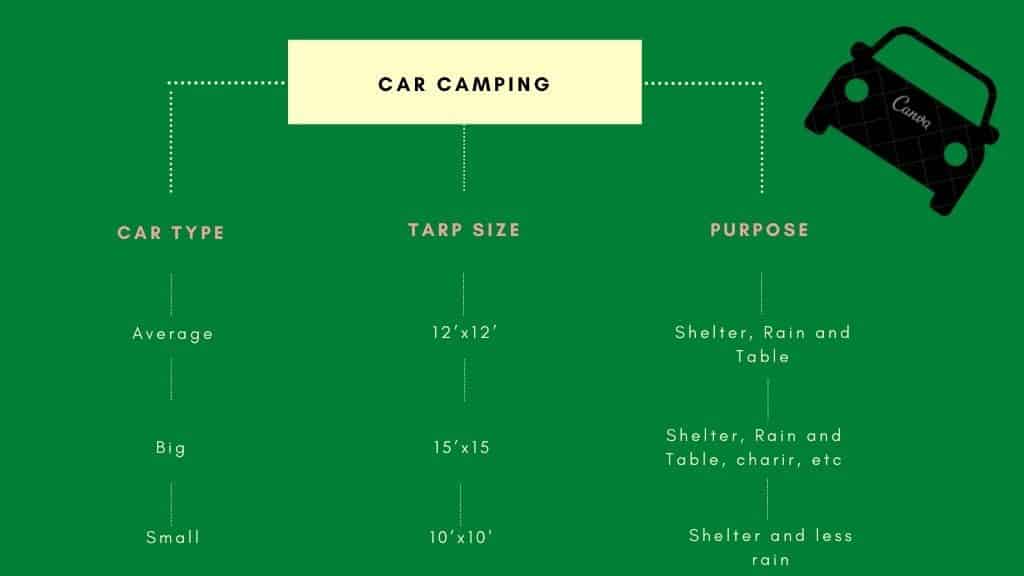 For Hammock
Depending on different factors, there exist several sizes of hammock tarps. So, which size will suit you most?
Before mentioning the sizes, let's talk about some basic terms on a tarp while using a hammock.
Two types of shelter for this type of camping are-
Diamond/ A-symmetric: Those are quite the same in size. But diamond has a square and provides more shelter whereas A-symmetric is rectangular.
Hexagon: It means it has 6 sides I mean hexagonal
Another vital term that you should calculate the tarp is the ridgeline. Ridgeline is the measurement between two parts of the hammock.
Basically, the size of the rainfly is largely associated with your height and hammock size.
For diamond/A-Sym: First, check for the ridgeline, and based on it choose the tarp where it is longer than the ridgeline up to 6 inches on both sides.
For family, if your hammock and ridgeline length are serially 13' and 11.2' then the tarp size should be 12' x 12'. It will be covered more area as well as protection in many circumstances. Again, for a single 11' hammock with an 8.6' line, you have to go for the 7' x 7'.
For Hexagon: In this sector, the calculations are the same as the above discussion. Like, you need to both 6 inches longer one than the line. Now, for 13' and 11.3', the dimension should be 9' x 11.8'. And for 8 it will be 7.7' x 10'.
In verdict, the sizes aren't fixed for all. It is related to your hammock size, ridgeline, and your height. We just show you the formula and now it's you who have to calculate to find out the perfect size.
Conclusion
I'm pretty sure, you are now thinking about why you need to take much hassle just for the size of a tarp? But it's much necessary to confirm the right size. And the way you think is difficult, in actuality it's not. 
We provide you with all the formulas, sorts, charts, and sizes, and from which you can easily find out yours. We hope, now there is no confusion on your mind about good size tarp for camping. And yeah, in case of any ask don't forget to share.
More Posts