Our life has become easier than before through using advanced technology. An electric bike is one of the parts of such technology that provide a lot of sporting ideas to keep you active and healthy. In addition, it is a great way to ride with complete joy in the hills and rough surfaces. So, are there any reasons why you should buy an e-bike?
Compared to an ordinary bike, the design of an electric bike explodes with new features. Although an electric bike looks the same as an ordinary bike, it will give you extra fun and ease on your journey. Apart from that, riding an electric bike has several health benefits. Keep reading this context to know why you should purchase an affordable electric bike.
What Is an Electric Bike?
An electric bike is a standard bicycle equipped with a motor that offers a boost called pedal assistance. This bike can be outfitted with larger tires, cargo trailers, racks, or baskets compared to traditional bikes.
You will find numerous variations in both power and speed on electric bikes. And their prices will vary according to size, brand, power, and speed. Typically, good-quality electric bikes start at around $1,500.
If you think this is a big investment, you will also find the best electric bike under 700 dollars on the market. You also get the same advantages from these bikes as from the costlier bikes.
Working Mechanism of an Electric Bike
Electric bikes hold a motor that helps in terms of pedal movements, making riding the bike. The motor of this bike isn't as powerful as the gasoline-powered engine. The good thing is that electric bikes do not generate harmful toxins when you're riding. Typically, electric bikes have three major components apart from the traditional bicycle. Here we have outlined these three major parts of the electric bike.
Component-1: Battery
Every electric bike is equipped with a battery that powers the motor. Electric bikes are significantly heavier with this attachment. The more powerful the battery you have, the more distance you will ride with your bike. Typically, the battery is placed in a lower position and centered on the bike.
Component-2: Sensor
Electric bikes are equipped with a sensor that helps to prevent them from going too fast. It also monitors the rider's speed to indicate the instruction whenever the motor needs to turn the throttle or pedal assist on or off. Besides, the sensor helps to check how hard you pedal, as harder paddling relates to a faster speed.
Component-3: Motor
E-bikes hold a motor, which helps to boost your ability while riding. The motor gets electricity from the battery that helps rotate the bike's wheels. Basically, when you kick the pedal for moving, the motor makes your pedaling effortless.
Why You Should Buy an E-bike?
There are many advantages you will acquire from riding an electric bike. Below, we have demonstrated some advantages that help to remove all your doubts and make you think about buying an e-bike.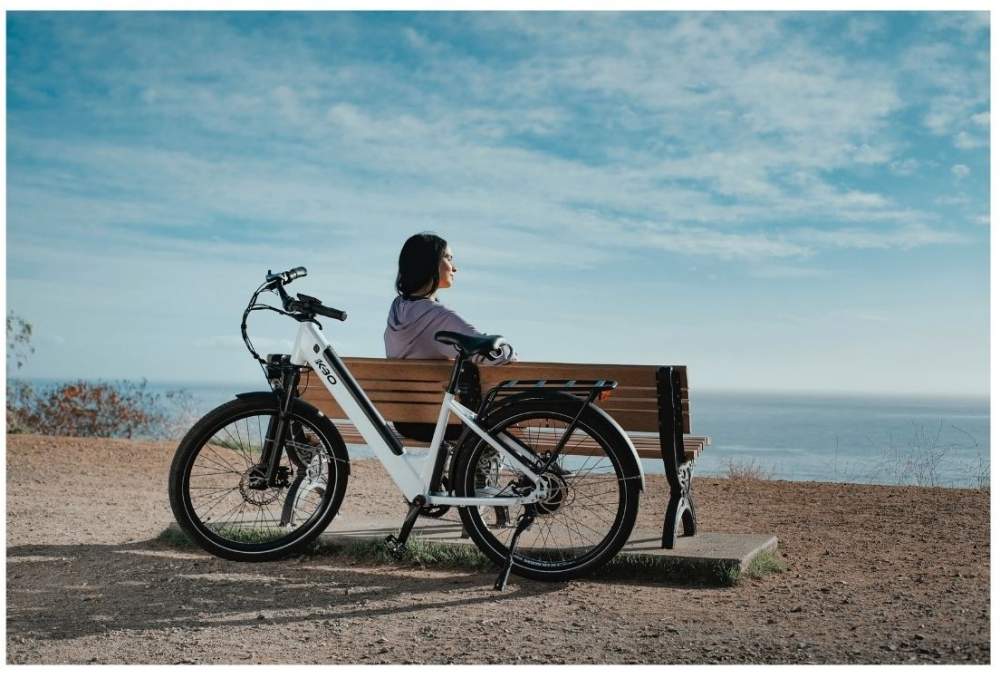 Improve Physical Health
Studies found that people who ride electric bikes get the same advantages as riding mountain bikes, although they are difficult to work out. Electric bikes have pedal assist that helps provide your pedaling a boost, reducing stress on your knees and thighs. Besides, some electric bikes have boosting technology that enables you to ride hills and inclines. As a result, people of all ages and health can ride smoothly and longer on an electric bike.
Easier to Ride
Electric bikes have pedal assist that provides you with a boost. As a result, you can easily ride on hills, inclines, and rough terrain without much effort. As a result, your joints will feel less stress. Besides, it allows you to ride with greater power and precision than regular bikes. As electric bikes help to alleviate physical aches and pains, you can take longer rides without physical tiredness.
Cost-Effective
Using an electric bike instead of a motor vehicle will save you money in the long run. As petrol and diesel are costly in most countries, they can really impact your budget. In that case, you can ride at least 18-50 miles after a fully charged battery with an electric bike. So, using an electric bike will save you money and time as well.
Eco-Friendly
Using an electric bike will be a greener choice than a car or public transport. This is because electric bikes don't emit any harmful things that have an impact on the environment. According to the ECF, a single passenger produces only 21 grams of CO2 per kilometer while riding on an electric bike. On the other hand, 271 grams of CO2 has been produced by a passenger per kilometer in a car ride.
Wide Range of Design
There are various designs of electric bikes available on the marketplace. With the support of technology, everything is now at your fingertips. Different companies produce unique designs of electric bikes with numerous functions. So you can choose your desired design from the vast number of models.
Different Types of Electric Bikes
You will find different designs of electric bikes in various genres. Below, we have demonstrated some widely used variations of electric bikes.
Hybrids/Commuter Electric Bikes
This type of electric bike is the most popular and suitable for a variety of uses like commuting, leisure rides, and daily chores. Hybrid electric bikes come with flat handlebars and front suspension. For that, riding on this bike will be easy on off-roads and hills.
E-Cargo Bikes
E-cargo electric bikes are integrated with powerful motors that help to ride easily where other bikes can't. This type of bike is used as a delivery vehicle on the road. In addition, e-cargo bikes have zero tailpipe emissions, so there is no negative contribution to air pollution.
Folding Electric Bikes
This bike is known as a space-saving bike that can be folded up and placed in surprisingly small areas. Furthermore, the bike can easily be brought into your workshop and stored there. Using a folding electric bike will make less theft risk because you can avoid leaving it in risky places.
What You Should Consider Before Purchasing an E-Bike?
When purchasing an E-bike, you should pick the right bike which fulfills your requirements. Below are the things to consider while purchasing an electric bike.
Speed
Speed is the most crucial thing that you should consider while choosing an E-bike. If you purchased an underpowered bike, you may face an irritating riding experience. That's why try to check the top speed of a bike and the performance before picking one. E-bikes with slow speeds usually reach a top speed of 50-60 km/h, while bikes with high speeds reach speeds of 70-90 kph.
Riding Range
The riding range will vary according to the bike's battery capacity and motor power. Usually, e-bikes with slow speeds have a riding range of approximately 50 km. On the other hand, high-speed e-bikes will offer a range of around 70-75 km. In addition, e-bikes with a bigger battery will provide a riding range of around 150 km on a single charge.
Battery Life
The battery of an e-bike is the most expensive component. So, it should be looked into while purchasing an electric bike. The battery life of an e-bike depends on the usage pattern and type of battery. Basically, new lithium-ion batteries provide a better life than lead or nickel batteries.
Motor Power
A motor is responsible for turning the bike's wheel. Variety of E-bike motors available with particular power outputs. So pick an E-bike with the right amount of power output required for your usage. Never purchase a bike with an underpowered motor as it can ruin your riding experience.
Construction Quality
Build quality of an electric bike should be taken into mind before buying one. The materials of the new eco-friendly e-bikes use aluminum which helps to take the load of daily commutes. So, check the build quality and the maximum load capacity of your chosen e-bikes.
Conclusion
The popularity of riding e-bikes is increasing day by day. The main reason behind this, e-bikes offer both a means of transport and health benefits. However, most people have confused about why they should buy an e-bike. That's why we have presented all the information about e-bikes as well as what benefits you will get from riding. Basically, riding on an e-bike will help you to improve your physical health, make your transport easy, enhance mental health, and many more.
More Writes: