9 Easiest BMX Tricks for Beginners
What is BMX?
The word BMX stands for bicycle motocross. It's a cycle sport associated with stunt riding on rough ground or over on obstacle course performed on a BMX bicycle. BMX racing or freestyle both becomes popular among younger nowadays. That's the reason why upcoming BMX cyclist searching for easy BMX tricks for beginners.
Equipment you need for BMX
According to others, adventurous BMX also needs proper equipment to perform. The list is too short. We divided it into two categories.
1. A suitable BMX bike: Bike selection mainly depends on your BMX types. But as a starter, a freestyle BMX bike is the right choice. The best option to perform freestyle tricks is in flatland or skateparks. Choose the right size that suits your body. The price starts at $250.
2. Safety Wear: Safety is obeyed in terms of BMX as injuries can happen. Safety wear means helmet, comfort clothes, shoes, gloves, etc.
Easiest BMX Tricks for Beginners
Tricks on BMX are many. First, you should have a skilled in essential cycling tips. You don't need to try all of this. For beginners, there are seven most simple and most comfortable tricks that anyone can perform. So let's start learning.
BMX Trick #1: A Manual
A manual is a trick where you are on the rear wheel during riding and not uses the pedals. It is one of the basic and first recommended tricks for beginners.
How to Learn a Manual
First of all, you need to know it's all about balancing on your back wheel.
In the beginning, a comfortable pulling is needed in your front wheel off the ground. A lot of effort can be felt, but over time you can cope up with it.
Now without thinking about the traveled distance, just comfortable with the pulling back on the bars. The body position of you should in hanging back with the rear wheel extending the arms on the bar and balanced with legs.
After used to pulling back, you need maintenance to balance the manual for a distance.
Don't focus on the front wheel as it can return in off the track.
BMX Trick #2: Bunny Hop
A bunny hop is such a BMX trick where it allows the rider to jump the bike off the ground and both of the wheels leaving the ground at the same time.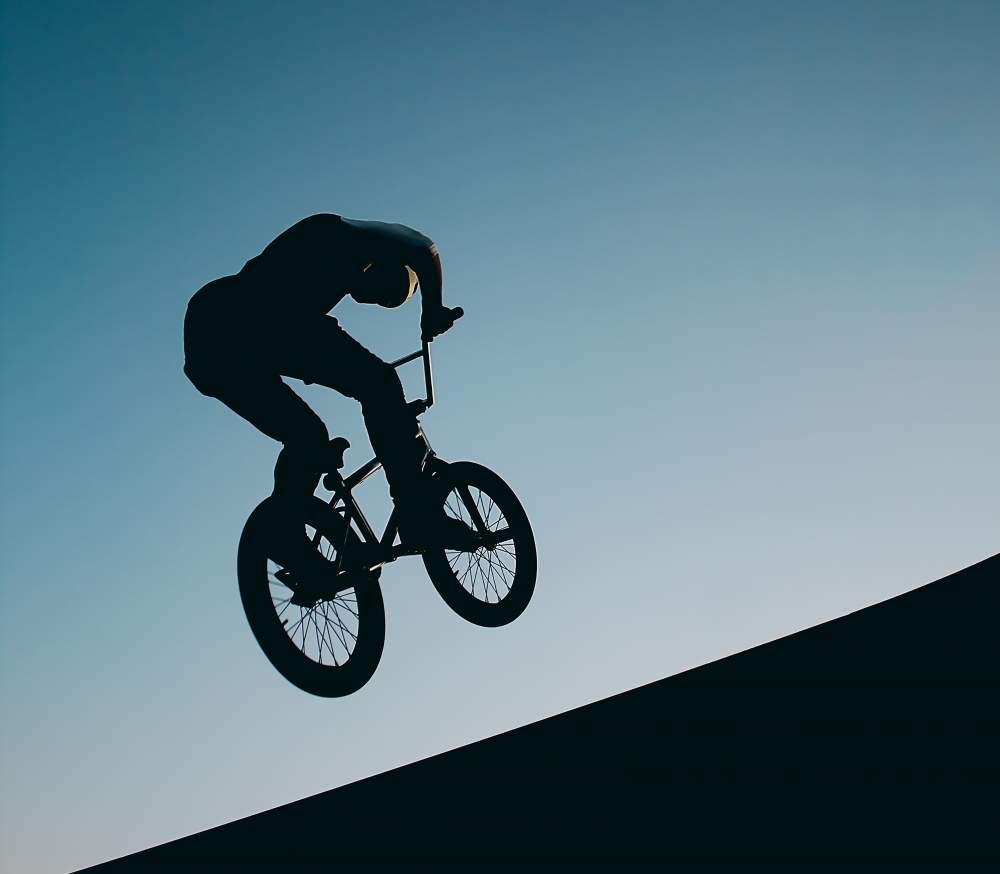 How to Learn Bunny Hop
This would be an easy one if you got the technique. It's an ideal BMX tricks for beginners.
So first start a ride with slow speed. Now by pulling the handlebars, try to raise the front wheel in up.
It should notice that the ground leaving time of both of the wheels is the same.
When you are in the air, just push the handlebars in a frontward direction. And now, back in the ground. That's all you need to do.
BMX Trick #3: J-Hop
J-hop is similar to Bunny-hop. It is defined as the trick where simultaneously gathering the front tire and then letting the back tire to follow.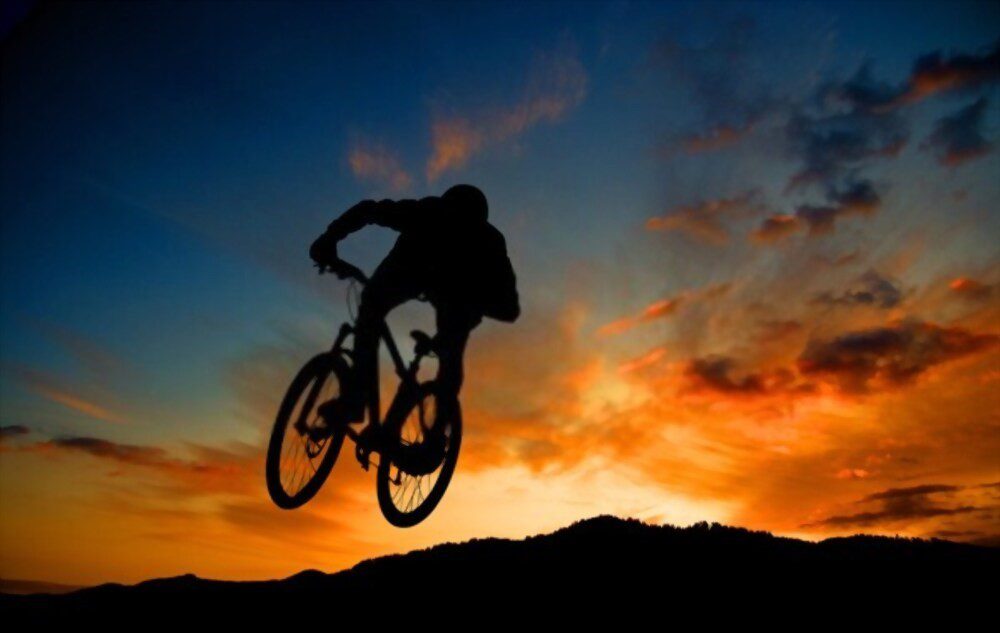 How to learn J-hop
As it is similar to bunny hop, so tricks are almost the same.
So, in the beginning, you need to pull up and lean back on your bicycle. When the front fire reached in your wished height, immediately push forward. That can bring the back tire into the up.
Now, When both wheels on the air, pulling the bike towards you and reaching your full height.
This is how j-hop worked.
BMX Trick #4: 180°
180° trick has done when in the air, allowing you to turn 180°.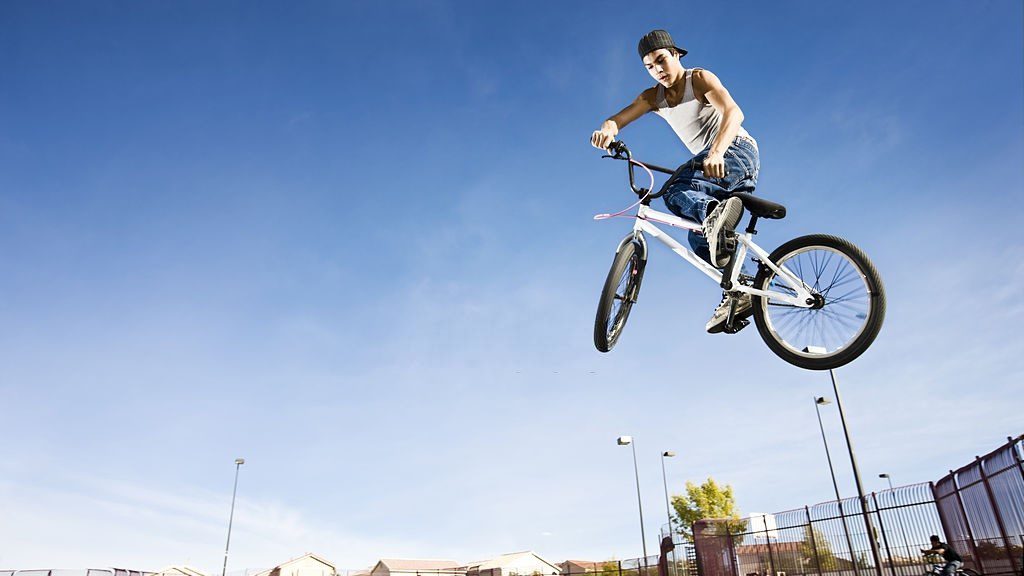 How to Learn a 180°
The trick is one of the popular BMX for beginners.
Firstly, ride in average pace and then lift the front wheel by pulling the handlebars.
Secondly, push the forward handlebars on the time of air.
Now it's time to turn yourself like your head and shoulders in the back wheel. Also, turn in 180° and firmly placed your bike in the land.
That's all about a basic 180° BMX.
BMX Trick #5: 360°
I hope you got it what means 360°. Yeah, it's similar to 180°; just 360 turns instead of 180°.
How to Learn a 360°
Nothing extra works should do compare to 180°.
Follow all the instructions like 180°, such as the rising front wheel, pushing forward, twisting your body, and the one change that is turning with 360°.
And the 360° trick done.
BMX Trick #6: Bar Hop
Bar Hop is an excellent technique where lifting both the feet over and up the handlebars in the front fender and back them in the bars.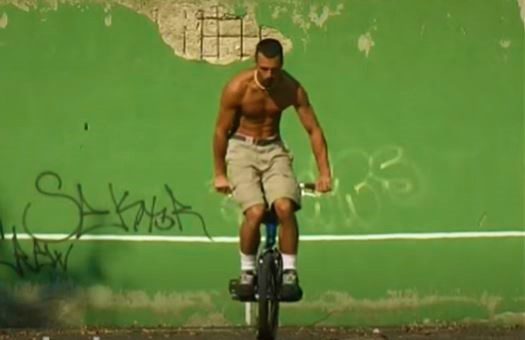 How to Learn Bar Hop
As a beginner, it looks so impressive when you will performing bar hop.
At first, fast speed riding is needed. Then by lifting your feet from the pedals, balanced your bicycle by the use of the body.
And finally, just fly your feet over the cycle handlebars.
It's a cool trick but skill is also required.
BMX Trick #7: A Nose Manual
A nose manual is very similar to a manual BMX that was balancing on the front wheel without using pedals.
How to Learn a Nose Manual
A lawn or soft ground is the ideal place to practice this trick.
First of all, you need to learn how to jump off. Like the manual, it's has a point on the front wheel where you are equally balanced. Finding this point is so much tricky.
Taking off the front wheel and balance maintaining on the dropouts can be tried. During this trick, the involvement of the entire body is required.
So thus by balancing maintenance in front-wheel without pedaling a nose manual can be done.
BMX Trick #8: Disaster
Disaster is a cool BMX trick where you will able to use to shift your weight between your bike's front and back ends. Typically it's a park trick.
How to Learn Disaster
To apply the trick, first, you need to ride up to the front of the transition.
Now do the job of j-hop and 180 ° when you are almost at the top.
At the time of landing on the ground, it should be ensured that the front tire is hopping back in and the back tire out of the pipe. These criteria always keep maintaining.
Parks, mellow, small ramps, etc are the ideal place where you can easily learn this trick.
BMX Trick #9: Advance BMX
You don't need to think about advanced tricks without applying above those. So go for the easiest trick first. We only give a short advance list of BMX to make inspiration and excitement on you.
Here we go-
1. Wall Ride
3. Moto Whip
4. Drop-In
5. Alleyoop
6. Double Bar Spin
7. 720°
And 90+ more adventurous and interesting tricks are waiting for you.
Pros and Cons of BMX
BMX is an extreme and fun sport. It is essential to know these for BMX tricks for beginners. Pros and cons both have existed in it.
Pros:
First of all, this is a super cool and thrilling sport. Amazing stunts make anyone crazy. Also, you make lots of friends there.
In terms of health, it's okay. BMX riding provides a perfect full-body workout. Legs and arms muscles are built. It also burns calories.
Community sense also builds from there.
BMX riding develops skill and sharp thinking. It also inspires one to do hard work.
And BMX bikes are comparatively cheap and easily transportable. That's one of the reasons becoming the sport's popularity.
Cons
You can't perform it anywhere you want like a crowded area or a busy road. And it is not suitable for longer riding.
Again, safety cautions are obeyed strictly. As it's a dangerous sport, if you do any mistake you must be suffered from serious injuries.
Protective dress-up for BMX should maintain proper. Comfort clothes, helmet, knee pads, light shoes, gloves, etc are required.
So,
BMX riding undoubtedly an adventurous and enjoyable sport among the younger. Apply those BMX tricks for beginners with properly and wearing protectivity. Don't jump to adorable advance trick over the beginner one. After learning through the basics, one can become a pro. So be safe and enjoy your BMX riding.
Leave us a comment below if you liked our article. Your comment is very much appreciated to us.