Being about 1545 feet long and 30 feet above the water, Navarre beach pier is the longest fishing pier in Florida. White sand, Emerald-colored water, and a Calm beach keep the attention of the tourist and those who like to fish. The pier is more than suitable for a good refreshing walk and also for fishing. The beach is nominated among the best in Florida year after year. Fishing, Relaxation, picnic spots, good sunbath, and swimming are the most liked things to do here.
And, who doesn't love to catch some fish enjoying the beauty of the ocean?
Location
In Santa Rosa country in the northwest Florida panhandle; Navarra is known as a census-designated place (CDP) and an unincorporated community. In the east of Pensacola at the far northwest tip of the state, this beach is situated beckons with which is 12 miles of pristine white shoreline.
Address– 8579 Gulf Blvd, Navarre, FL 32566, United States.
Best Time to Visit
Early April to late May and from late September to early November are the best time to visit Navarre Beach pier for general outdoor tourist activities as visitors aspects. It's because of the dry and pleasantly warm weather. The temperature ranges are okay. For dry and hot weather activities, early May to late June and from late August to early October is the best time to visit.
Recommended: Top Fishing Spots in Florida
Inshore Fishing in Navarre
Inshore fishing is getting more and more attractive day by day in Navarre like Sebastian Inlet. It's because it's a lot of fun with less money spent than offshore fishing. The charter organizations provide scheduled trip offers for inshore fishing. They also provide fishing licenses, bait, rods & reels, ice, tackle, and fish cleaning. You only have to bring food, drinks, a hat, sunscreen, a camera, and a small cooler to take your catch with you. The targets vary with the weather.
In good weather, they go for species like grouper, mackerel, and snapper. If the weather is not that good they change gear and go for inshore species like speckled trout, redfish, Spanish mackerel, sheepshead, and flounder.
Offshore Fishing in Navarre
In the offshore charters, they leave the protected waterways of Pensacola Bay and head to fish in the offshore waters of the Gulf of Mexico venturing south from Pensacola. The distance of fishing offshore depends on the existing fishing conditions and the length of the trip. Commonly it's a 6 to 8 hours length. But longer trips can be arranged based on the visitor's demand and will to pay accordingly. As the boats are larger in offshore fishing they can accommodate a larger group. There is a wide variety of fish to target in offshore fishing.
Different species of fish like snapper, king mackerel, different kinds of grouper, amberjack, triggerfish, cobia, and Spanish mackerel are commonly caught on offshore trips. They will provide fishing licenses, bait, rods & reels, ice, tackle, and fish cleaning. You will have to bring food, drinks, a hat, sunscreen, a camera, and a small cooler to take your catch with you.
Know the difference: Freshwater vs Saltwater Fishing
Ways of Fishing
There are several ways that you can fish on the Navarre beach pier. You can try one or two or even all the ways you like. Let's try to convince you of every method.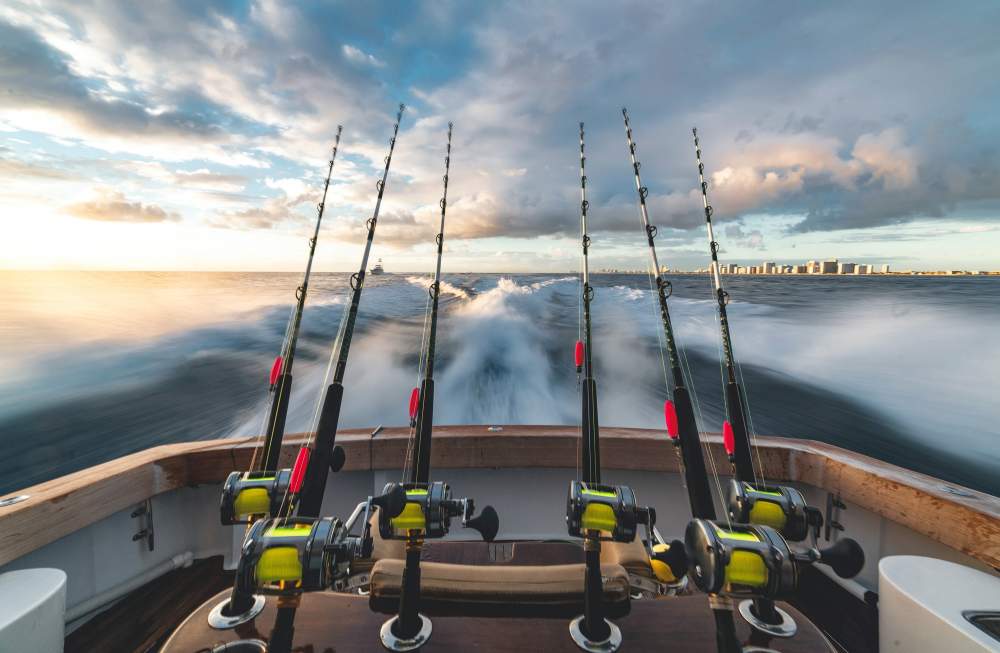 By Kayaking: kayaking itself is an amazing enjoyment. And after some tired paddles, wouldn't it be the fullest of enjoyment if you can sit there in the ocean, relax and fish! You get the option to do that on Navarre b. The water is so clear you may see the fish eating your bait.
Fishing Charters: You will find many charter boats with captains to take you on an amazing trip for several hours. You will be mesmerized by the beauty of the ocean while catching some fish for your dinner and taking some with you home. You can hit the offshore trip for a lengthy adventure.
Beach Pier: The pier is the main attraction of the Navarre pier fishing as it is the longest fishing pier in Florida. But you have to battle for a good spot on the pier cause it gets full of the crowd from the beginning of the day.
By walking: The beach is quite calm and less crowded. So you can go fishing while walking on the white sand beach. The sand is not hot enough to cause you pain cause the sand is white and it reflects the temperature.
More Things to Do
Navarre beach is especially known for its long pier. But it doesn't mean the pier is all it has. There are a ton of fun things to do on the beach or near the beach. Like Venice Fishing Pier, this one also never lets you down in terms of other activities. Let's discuss some of the best things you can do when visiting Navarre Beach pier fishing or a closed area. 
Sea Turtle Conservation Center
There is a beautiful sea turtle conservation center in Navarre beach marine park. They are doing a great job helping the sea turtle and housing them here. And they put on a show to spread the message that anyone can bring change globally by doing their part in helping the sea animals or any other animals. It's a must-watch place if you are visiting Navarre beach.
Marine Science Station
The Navarre beach marine science station which was founded in 2009 by students of marine science, is a learning place for visitors and also the students. Students of Navarre high school who are part of the station teach the visiting groups about the local marine environment. The visitors get a good idea of the situation of the marine ecosystem and the necessity of conserving sea animals. It's a good learning season and kids seem to enjoy it very much. 
Navarre B. Pier
Besides fishing, the pier is a very good place for a refreshing walk. The infinite blue sea with light blue sky, and birds flying from side to side, make one feel awesome. It's an ideal place to spend some wonderful moments with family and loved ones. It cost only 1$ for entry for the whole day. It is truly incredible to find a place to spend some time at such a low cost. 
Kayaking
The N. beach is called and known as kayak paradise. It's an ideal kayak trip for every age and any skilled person. The most amazing part of it that the view of the sunset. You can sit back, enjoy the view and nature of the sunset, and kayak.
Santa R. Island
Visiting Santa Rosa Island from N. beach within a short time can be a good one. It's only about 2 miles away from Navarre beach. Santa Rosa Island can be visited by Navarre beach visitors. Calm B. area, great picnic, the white S, and mesmerizing views make the island amazing for visitors. We recommend highly paying a visit there if you have enough time to spare.
Navarre Family Water-Sports
Since its opening in 2013, the Navarre family water sports is one of the top destinations in Navarre. It's a great place to get wild and enjoy yourself with your family in the water. "Where families come together on the water!" is their common slogan. Pontoon rentals, kayak rentals, Jetski rentals, slingshot rentals, stand-up paddleboard rentals, miniature golf, seaplane intro flights, and floating water park are mainly provided by them.
Saltwater Cottage
It is the oldest cottage in Navarre. It's a small shop that you might pass by without noticing. But, it's worth visiting. The items are all-natural and they have recycled items. The shopkeeper greets you the way you will feel like family to them. You will find something new and noticeable at every turn. They have all the local items. They make locally made jewelry and candles. You simply become amazed by the friendly behavior of the owner and staff and that can feel you at home. They are based on the motto of "Start a ripple of kindness and watch the wave".
Navarre Seafood Market
It would be a waste if you are that close to the sea and haven't tasted the seafood. There is a seafood market just for you. If you are not that knowledgeable about seafood that's not a problem. They will guide you with your best selections. You will find about every local seafood there like Shrimp, crab, crab legs, raw fish, crawfish, oysters, and many more.
Rules and Safety Issues
When you are going on a trip like this, you must know some basic rules and things to look at before and on the trip. You must take precautions to ensure a smooth and happy trip. Let's make you remember some of them,
1. You must gather all kinds of local information about fishing, weather, and others. You must know what is coming when you are on the trip.
2. You must check the charter boat license before booking one. This causes many unlicensed boats to be not authorized. You would not want to be in any kind of trouble when you and your family came to spend some trouble less time.
3. You must buy a license where ever you are fishing. It's necessary for professionalism and you will not worry about anything besides fishing.
4. Acquire the information about the forbidden fishes and leave them if you catch some.
5. Make sure you are not going in any closing months. Or your fishing trip will be wasted.
6. Stay alert to natural calamities before leaving for the trip.
7. Always keep first aid kits with you. it will be really helpful in times of emergency.
8. Wear clothes that are fishing favorably. 
9. You need extra preparation if you are planning to fish at night.
10. Check out the fishing tips if you are a rookie at fishing.
FAQs
1. Is Navarre beach pier nice?
Ans: yes. It has the longest pier in Florida. And clean water and shining white sand. The beach is quite calm and it has a nice sunset view.
2. What is N beach known for?
Ans: The beach is known for its long lengthy pier. It's a nice pier for a lovely walk only 1$ for the whole day. And also an amazing spot to catch various local fish.
3. How far it is from Pensacola beach?
Ans: the Navarre Is is about 26 miles far from Pensacola beach.
4. Is N. beach better than Destin?
Ans: If you are looking for a tranquil, relaxing coastal experience then you should choose Navarre over Destin. But if you prefer a beach town and a big city then Destin might be the choice.
5. Is the beach safe to swim in?
Ans: Yes. The FDOH confirms that it's safe to swim on Navarre beach. But it's a must to take essential precautions.
6. Is that beach family-friendly?
Ans: Yes. It is a prime location for the family to spend some stress less time. They have arrangements only for families.
7. Are there sharks on this beach?
Ans: No. there is no shark on Navarre beach. And it's safe from fearful creatures.
8. How big is Navarre?
Ans: It's about 219.7 square kilometers.
Conclusion
So, after some formative discussion, I guess you have enough reason to make your mindset for the tour of Navarre beach pier fishing. I bet it will be worth going there. It's one of the ideal places in Florida to spend some quality and peaceful time with your friends or family. Take a break from the stressful, busy routine of life and spare some of your time enjoying life with nature.