Are you planning an epic hiking trip with your friends? Sounds exciting! But have you considered the potential risks and hazards that come with it? Don't let a minor mistake ruin your adventure, especially if it leads to knee injuries or the need for medical attention. Fortunately, there is a solution: invest in the best knee brace for hiking.
Even the most seasoned hikers can fall victim to unforeseen accidents. As hiking primarily involves your legs, a knee or ankle injury can quickly turn your dream hike into a nightmare. This is why it's essential to prioritize the safety and support of your lower body. A reliable knee brace can provide the protection and comfort you need to enjoy your trek without worry.
To help you make an informed decision, we have conducted thorough research and compiled a list of top-rated knee braces for hiking. With our guide, you can choose the perfect brace and embark on your adventure with confidence.
Related Topic: Best Ankle Brace for Hiking (Top 6)
Why Do You need to Wear Hiking Knee Brace?
When it comes to hiking, many hikers believe that their strength alone will keep them safe, and they often underestimate the value of a good knee brace. However, even the most experienced hiker can fall victim to injury without the right gear.
There are many reasons to wear a knee brace while hiking. A strong and supportive knee is essential to withstand the stress of hiking, and knee braces help to reduce that stress while providing comfortable support. They are also highly effective in preventing unwanted injuries, and they are budget-friendly and easy to wear.
If you've ever gone on a hike without a knee brace and ended up with knee pain, then you know how valuable they can be. Braces can provide support to your leg, making movement easier and promoting quick recovery.
Considering all of these benefits, it's clear that knee braces are a wise investment for any hiker. Don't take unnecessary risks – protect your knees and enjoy your hike with the added support of a knee brace.
Related Topic: Knee Brace Pros and Cons: For Hiking and Sports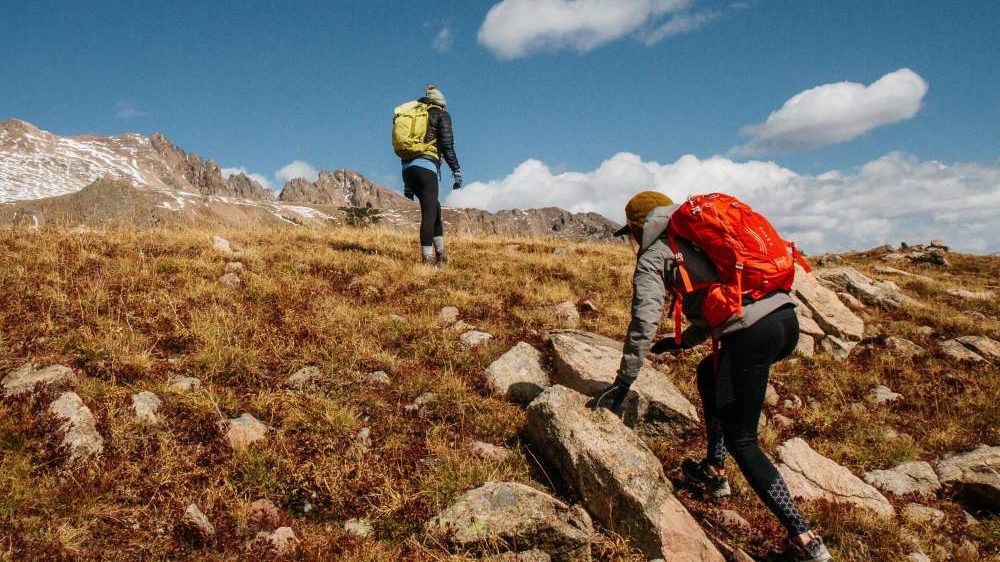 What to Consider When Choosing Hikers Knee Braces?
When choosing the perfect knee support for hiking, there are a few important factors to consider before making your purchase. Let's take a look at some of the key considerations below.
Choosing the Style
The first and foremost factor to consider when choosing a knee brace is its style. With several styles available, it's important to select the one that suits you the best.
The two main styles are slip-on and wrap-around. Slip-on braces offer excellent support and traction without slipping down, but they are not adjustable. They are ideal for longer hikes or trekking, providing superb stability.
Related Topic: Hiking vs Trekking: Differences and More
On the other hand, wrap-around style braces wrap around your knee, providing comfort as well as support. While they may not offer the same level of support as slip-on braces, they are perfect for light hikes.
So, depending on your needs, select the style of braces that is right for you.
Design Selecting
Just like styles, knee braces come in several designs with various features. Let's explore some of these designs to help you make an informed decision.
Firstly, for support, you can choose a wrap-around knee brace with an adjustable feature. Another option is the strap design, where the brace is wrapped below your knee.
If you prefer a lightweight option, then the sleeve design is perfect for you. These braces slip over your leg, providing comfort but with limited adjustable options.
Hinged braces offer leg support with easier movements, while stabilizer designs have steel springs on both sides, providing comfort and support.
Lastly, for the open and closed patella design, you will have the option of easy movement, compression, and excellent support.
Therefore, it's crucial to determine which design suits you best before making a purchase.
Fitted Size
One of the most important things to consider when choosing knee braces is the perfect size. With so many sizes available, it's easy to choose one that fits your needs but doesn't fit your leg. A brace that is too loose won't provide enough support, while one that is too tight will hinder your movement on the trails. Therefore, it's essential to find the right size that will provide you with extra support and protection during your activity without compromising your comfort.
Quality Materials
Aside from size, the material quality is also crucial to ensure maximum benefits. Materials used in braces can affect factors such as irritation, sweating, and dirt buildup. Therefore, it's important to be aware of the materials used in the braces you're considering.
Most braces are made with neoprene and other sturdy materials, providing good strength and allergen-free properties. For hot weather, it's important to choose lightweight braces with breathable materials. Neoprene is an excellent material for summer as it's durable and easy to clean.
Considering your unique needs and preferences, choose a high-quality and effective material-bearing hiking brace that can provide you with the protection and support you need on the trails.
Ensure Adjustable Option
When it comes to knee braces, both adjustable and non-adjustable options are available. However, having an adjustable brace can provide you with added convenience and comfort.
With an adjustable strap, you won't have to worry about constantly readjusting your brace during your hike. As you traverse uphill, downhill, and navigate challenging terrain, it's common for your brace to shift out of place. But with an adjustable brace, you can tighten or loosen the strap as needed, ensuring a secure and comfortable fit throughout your hike.
Having this adjustability option can make all the difference in your hiking experience, giving you the peace of mind to focus on the beautiful scenery around you.
Comfortable Wear
Don't trade one problem for another by wearing an uncomfortable knee brace. That's why it's crucial to prioritize comfort and ensure a perfect fit.
To achieve maximum comfort, you must consider the material and quality of the knee braces. Some are suitable for summer, while others are ideal for winter. So, look for features that provide excellent support and comfort in any situation. Additionally, choose a lightweight option to prevent discomfort during extended use.
By considering all of these factors, you can ensure that you not only receive the necessary support but also feel comfortable while wearing your braces.
Top 10 Best Knee Braces for Hiking
There are many different knee braces on the market to chose from. This can ake it difficult to know which one to pick. In this section, keeping in mind the key features, we picked the top ten.
1. POWERLIX Knee Compression Sleeve: Best Overall
Advanced design and smart features make the POWERLIX Compression Sleeve a popular user choice for hikers.
Overview
This long-sleeve brace is designed to provide you with super protection and stability through compression. Ensuring the safety of your knee joint will give you good support and permission to play activities smoothly.
In terms of design, it is top-notch. The fabric materials work to provide a super smooth and comfortable experience in any activity. During trail exploring, you will never feel irritated wearing it. It also helps maintain joint temperature. Another good feature is the knitted design that easily fits your leg joints.
It's great to hear that the item is breathable and has excellent absorption capability. This means you can stay free from sweating legs during summer trips. You also don't have to worry about odor as it has the power to eliminate it.
For anti-slip purposes, it has double silicone to offer an effective grip during any hard activity. You can enjoy risk-free trail walking or jumping without slipping down. The braces also keep your muscles and knee safe from injury by taking on extra stress.
Not only does it perform well, but it also looks good. It comes in a variety of colors and sizes with a pretty look. It is quite lightweight at only 2.4 ounces, and its price segment won't upset you.
So, if you're interested in a long hike and want a supportive and peaceful brace for your journey, this will suit you well.
2. Bracoo Compression Knee Support Brace: Best Value
Bracoo KS10 introduces the hikers with open-patella braces having adjustable and knee support character.
Overview
The KS10 knee brace is crafted from neoprene material that provides unparalleled comfort, ensuring that you stay free from irritation even during intense activities. Additionally, the breathable design of the brace makes it suitable for sweaty situations.
What sets this model apart is its open-patella design that keeps your kneecap in the correct position, providing optimal stability and facilitating easy movement. Moreover, the adjustable feature allows you to tweak the fit with three straps to ensure comfortable wear all day long.
The compression design of the brace improves blood circulation, promoting healthy knees during your hiking trips. This brace is highly effective in preventing ACL, LCL, and other ligament injuries, offering great stability without causing any discomfort.
The KS10 hiking knee brace comes in three attractive colors and weighs about 3.36 ounces, making it lightweight and easy to carry. The most pleasing aspect is its budget-friendly price, making it a highly attractive option.
If you're looking for an affordable yet high-quality brace to prevent serious knee injuries during your hiking trips, then the KS10 knee brace is definitely worth a try!
3. Cho-Pat Dual Action Knee Strap: Our Pick
Cho-Pat Dual Action is one of the best knee support for hiking providing pain-free knees and an excellent wearing experience.
Overview
This knee strap boasts neoprene material that provides both warmth and comfort while also being breathable. The closure is secured with a convenient hook and loop.
One of the standout features of this brace is its adjustability, allowing for an easy and comfortable fit that can be worn both over and under pants. This means you can stay focused on your hike without worrying about discomfort or shifting braces.
When it comes to protection, this brace has you covered. Its ultra mobility and support system is designed to target specific injury points, such as above or below the kneecap, to prevent unwanted movements and injury.
Thanks to patented technology, this knee strap is highly effective in preventing conditions such as PCL, Patellar tendonitis, and discomfort during downhill walking.
Cho-Pat offers this brace in black and tan colors and different sizes, with a weight of only 3.2 ounces.
If you're looking for a hiking knee strap that provides essential features to protect you from minor to medium pain during your hike, then this smart and practical option from Cho-Pat might be the perfect fit for you.
4. IPOW 2 Pack Knee Pain Relief Brace: Best Quality
IPOW 2 Pack brace is a fantastic option to protect your knee from hurting on hiking just by spending a thin budget.
Overview
The knee brace is designed to offer both comfort and durability, made from high-quality fabric that is soft and breathable. The ventilated material ensures that you remain cool and dry during any activity, while the smooth texture and quick absorption prevent any itching or discomfort, even after long hours of use.
This brace comes in one size that fits most, making it perfect for children and adults alike, with adjustable straps that provide a snug fit around your leg, preventing it from slipping or moving out of place. The brace is easy to put on and take off, making it ideal for hiking trips where you need to move quickly.
The primary function of this knee brace is to provide support and stability for your leg, protecting it from any potential injuries or accidents. The compression braces work by keeping your knee joint in the correct position, preventing any unwanted movements that could lead to pain or discomfort. This feature is especially useful during jumping or other high-impact activities that put a lot of stress on your knees.
In addition to its practical features, this brace comes in four different colors, so you can choose the one that matches your style best. And with a budget-friendly price tag, it's an affordable option for anyone looking for a reliable and effective knee brace.
If you're looking for a comfortable and cost-effective knee brace that will keep your leg safe during long hikes, this one-size-fits-all option is definitely worth considering.
5. CAMBIVO 2 Pack Knee Brace: Good for Up and Downhill
To save your knee from hurting during hiking, CAMBIVO 2 Pack can be a great option for a brace.
Overview
If you're curious about the materials, this brace is actually made of a mix of nylon, latex, and spandex. Not only is it breathable, but it's also comfortable, so you won't be bothered by sweat or itching during your workout. It's super easy to wear, too.
One of the best things about this brace is that it has silicone to provide a great grip and slip-resistance. It's strapless, so you can easily tackle any downhill, jumping, or sports task with confidence and safety.
The compression design helps to relieve pressure and ensure good blood flow around the knee. Plus, the 3D knitting feature strengthens pressure on your knee to provide extra joint support and balance. With this brace, you can protect yourself from knee problems and stay comfortable during your activities.
There are plenty of color and size options to choose from, so you can find the perfect fit for you. Make sure to consult their sizing chart to get the best fit possible. The brace weighs about 6.4 ounces, and the price is very reasonable.
We highly recommend this brace for anyone looking for a compression hiking brace with essential features to protect their legs from injury.
6. TechWare Pro Knee Brace: All Rounder
TechWare Pro is another open-patella hiker's brace having advanced features and performance.
Overview
The TechWare Pro is constructed with top-notch materials including neoprene and silicon, which make it lightweight and comfortable. The neoprene fabric has excellent moisture-wicking abilities, ensuring that you remain sweat-free throughout your hike. The silicon feature helps to keep the brace in place, providing a slip-resistant grip.
Featuring three straps and a compression design, this brace is equipped with a hook and loop closure. Compression is a vital feature during any hike, as it enhances oxygen and blood flow while also providing support for individuals who have previously experienced knee problems.
The TechWare brace boasts a patella design that securely holds kneecaps in place, as well as 4 stabilizers that provide outstanding balance and support to your knee. This feature ensures that you can engage in outdoor activities without worrying about sustaining any injuries.
The brace comes in four different sizes, ranging from 10-18 inches, and is available in black. It weighs approximately 5.28 ounces, and although the price is a little high, it is very reasonable when compared to the quality.
If you are looking for an all-rounder hiking brace that offers top-notch quality at a reasonable cost, then the TechWare Pro is the perfect product for you.
7. IPOW 2 Pack Thickened and Wide Patella Knee Strap: Excellent Comfort
IPOW 2 Pack Thickened Pad is a good choice brace to protect and relieve your knee pain on hiking.
Overview
Introducing another top pick from IPOW! Similar to its predecessor, this brace is crafted with top-quality materials, ensuring a lightweight feel. Say goodbye to sweaty and uncomfortable experiences, as this brace boasts a breathable fabric that is gentle on your skin.
The open-patella design is the highlight of this brace and can be adjusted to fit your knee snugly. Its wide patella ensures a firm hold while you exercise, ideal for muscle building. And with its easy-to-wear design, you only need to tighten the straps once.
Related Topic: Compression Socks for Hiking
The brace's thick compression padding provides ultimate comfort and protection. Its patella compression pad absorbs shocks, holding your knee securely in place while ensuring your safety from potential injuries. Moreover, this brace is highly slip-resistant and can alleviate pain related to previous knee problems, making it ideal for providing proper support and avoiding danger.
Don't worry about size, as this brace comes in one size that fits all. Plus, it's available in four attractive colors at a budget-saving price.
So why should you get this brace? If you're looking for a pair of hiking braces with good performance at an affordable price, then this two-pack option is the perfect solution for you.
8. Abco Tech Patella Knee Strap: Super Cheap
Abco Tech is a suitable option being an adjustable knee pain-preventing brace at a very low price.
Overview
Abco's design may seem simple, but it's highly effective. Made with durable and comfortable materials such as nylon and neoprene, it has excellent breathability and moisture-wicking capabilities. The cleaning process is easy, and its lightweight design ensures you won't even feel like you're wearing anything on your leg. Plus, it won't slip down, giving you peace of mind during your hikes.
The patella design is perfect for hiking activities, and the brace is fully adjustable to fit your leg comfortably. It offers excellent knee support, making it ideal for both uphill and downhill hiking. In fact, many hikers choose this brace specifically for downhill hikes. Even if you suffer from leg pain, this brace will help you securely move along the trails while providing the support, pain relief, and protection you need.
Thanks to its one-size-fits-all design, the Abco brace is suitable for everyone. The manufacturer offers three color options for users, and the best part is its price. It's one of the most affordable knee braces for hiking on the market.
In conclusion, if you're a hiker with knee problems, this brace is an excellent choice at an incredibly low price.
9. BLITZU Knee Compression Sleeve: Excellent for Downhill
BLITZU Knee brace is a brace that features smart technology and quality design for awesome performance.
Overview
BLITZU is designed using high-quality silicone and other materials to offer numerous benefits. It is incredibly lightweight, breathable, and moisture-wicking. The material used to create it also protects against bacteria and is easy to wash in a machine. It is an extremely durable product that can last for a long time.
This item comes with a 360-degree compression sleeve, providing excellent stability and protection. The design ensures proper blood and oxygen circulation while the 4D knitted material guarantees a comfortable wear. The compression feature provides risk-free movements and reduces the risk of injury.
The slip-proof design ensures that the brace fits securely and won't roll down. It has a patella stabilizer and four-way stretch to offer great support and pain relief. The reinforced patella keeps your knee in its proper position, enabling pain-free movements. Whether you have ligament issues or any other knee condition, this brace serves as a good doctor to prevent and protect you from injuries during long hikes.
This brace comes in four different sizes and several color options. The package weighs about 5.68 ounces. The best part? It is incredibly affordable.
If you're looking for an affordable knee support brace that offers quality features for your long hikes, then BLITZU is an excellent option to consider.
10. Shock Doctor Hinged Knee Brace: Good for Injured Knee
Shock Doctor Hinged Brace is one of the best hiking knees with a premium design and premium performance on this list.
Overview
The brace boasts a premium design and build quality. Its durable fabric offers a perfect blend of softness and breathability, absorbing sweat quickly and leaving you feeling comfortable. You'll never have to worry about bad odors or bacteria thanks to its odorless and anti-bacterial properties.
This brace provides easier and safer movement with its compression feature, which stays securely in place and offers support for both left and right knees. It features a hook and loop closure and two hinges that increase knee support for optimal performance on the trails. The side stabilizers offer superb protection, and the non-slip feature ensures the brace stays in place during hard outdoor or sports activities. It's highly effective for downhill walking and provides excellent protection against meniscus, ligament sprains, arthritis, and other knee-related issues. In other words, it helps prevent knee-related problems from occurring, reduces pain, and aids in recovery from a bad knee.
The brace comes in various sizes suitable for all ages, although it only offers one color option, which is black. Keep in mind that due to its premium design, the brace is comparatively heavy and comes at a higher cost.
So, who should consider purchasing this brace? If you have a bad knee and want a high-quality brace that offers both pain reduction and support during your upcoming hike without worrying about the price, then Shock Doctor is the right choice for you.
Additional Ways to Keep Knee Healthy While Hiking
Without braces, there are also some ways in which you can keep your leg pain-free and secure. So, what are those additional ones? Well, the explanation is given in this section.
Suitable Footwear
Previously, I mentioned the importance of correct footwear in terms of safety and comfort. The perfect hiking boots or shoes will surely ensure your security steps in any touch conditions. And thus, you can free yourself from knee injuries and keep it healthy.
Related Topic: Best Hiking Boot for Plantar Fasciitis (Top 14)
Good Hiking Poles
Many hikers don't think they don't need to use hiking poles. But that is absolutely wrong. You never know how poles can protect you from the worst situations. A good hiking pole gives you super stability and ensures comfortable and pain-free steps. It also helps your walking to reduce your weight by taking it. So, if you hike with a loaded backpack, then they could be beneficial for you. Lastly, those poles are a great thing to provide stability as well as ankle protection.
Knee Exercise
Doing knee exercises have a great impact on keeping the knee safe during hiking. There are many exercises that you may try. For example, wall squats, hamstring, calf stretching, and so on. These exercises will increase the strength, support, and stability of this area. As a result, your legs will be prepared enough to win the mountain successfully.
Related Topic: Hikers Knee Exercises (Before and After)
By Taking Supplements
If you're not a fan of the aforementioned methods, then supplements may be a viable option for you. While not scientifically proven to alleviate pain or inflammation, some supplements have been shown to have potential benefits without side effects. Consider trying Omega-3 or Chondroitin to enhance your hiking performance if you're hesitant about other options. It's like taking a chance on a lucky draw!
More Facts You Should Know About Hiking Knee Brace
How to Maintain Braces for Long Use?
To ensure that your hiking brace lasts for a long time, proper care is essential. Hiking braces are prone to wear and tear, but with a little effort, you can make them last longer. After each use, make sure to clean it thoroughly with soap or other cleansing agents. Be mindful of any signs of wear and tear, as it could be caused by collisions with sharp objects. If your brace has metal parts, be sure to take extra care of them. Check the hinges and straps for any damage regularly to make sure they're still in good working condition. By taking these simple precautions, you can make sure that your hiking brace stays usable for a long time.
Is Boot Impact on Hiking for Knee Protection?
According to my previous word, I again say boots or shoes have a vital impact on your safety while hiking. By wearing the right ones, you can ensure your stability, secure feet, ankle support, knee support, and so on things. So, why do you want to be concerned about them? But all boots aren't good for hiking. You need to choose the ideal one.
Related Topic: Are Duck Boots Good for Hiking?
Can I Hike with A Bad Knee?
Don't let a previous injury or bad knee hold you back from hiking safely. With the right gear, you can conquer the trails with confidence. Hiking braces can offer pain relief and protection for knee problems, and the Shock Doctor brace is an ideal choice.
What Should I Do for Leg Pain after Hiking?
Due to born leg structure or mistakes, you can get leg injuries or pain. After the hike, you should follow some tasks to recover from the pain. Light leg exercises, ice rubbing, therapy or doctor treatment, etc should do depending on the conditions.
Related Topic: Achilles Pain After Hiking: Reasons and Solution
Can I Wear knee braces for A Long Walk?
If you have any knee issues or doctor recommendations then you can wear them all day. Practically, compression sleeve braces are good for long walking to protect your leg. But if you choose the wrong brace or don't wear it properly then you may face trouble.
Can I Use My Braces over My Pants?
Yes, you can, but it is not good practice to wear them over your pants. It makes a chance for the brace not to stay in place. And for that reason, you can't get the benefit from it. But if you need to wear it this way, then you need those pants where the materials are thinner like yoga pants, skinny jeans, sports pants, and so on.
When should you not wear a knee brace?
There are a few situations when it is not recommended to wear a knee brace:
Skin irritation: If you have sensitive skin, wearing a knee brace may cause irritation or chafing. In this case, it is best to find a knee brace made of a soft and breathable material or to use a bandage or padding under the brace to prevent skin irritation.
Infections: If you have a skin infection or an open wound on your knee, wearing a knee brace may worsen the infection or slow down the healing process. It is best to avoid wearing a knee brace until the infection or wound has fully healed.
Circulation problems: If you have circulation problems or swelling in your leg, wearing a knee brace may further restrict blood flow and worsen the swelling. It is best to consult a doctor before wearing a knee brace in these cases.
Pain: If wearing a knee brace causes pain, it is best to stop using it and consult a doctor. It is possible that the brace is not properly fitting or may be causing further damage to your knee.
It is important to note that a knee brace should never be worn to compensate for a knee injury. Instead, it is best to consult a doctor to diagnose the problem and receive appropriate treatment.
Is there a downside to wearing a knee brace?
Yes, there are some potential downsides to wearing a knee brace:
Decreased mobility: Some knee braces can be restrictive and limit the range of motion of the knee. This can make it difficult to perform certain activities, such as running or jumping.
Over-reliance: Wearing a knee brace may give a false sense of security, causing some people to overuse their injured knee. This can slow down the healing process and lead to further injury.
Discomfort: Some knee braces can be uncomfortable to wear, particularly for extended periods of time. The brace may rub against the skin, cause chafing, or be too tight.
Inadequate support: Not all knee braces are created equal, and some may not provide adequate support for certain types of injuries. It is important to choose a knee brace that is appropriate for your specific injury.
Cost: Knee braces can be expensive, particularly if you need to purchase a custom-made brace.
In general, it is important to use a knee brace as directed by a doctor or physical therapist. Overuse of a knee brace can lead to dependency, decreased mobility, and potential long-term problems. Additionally, it is important to choose a knee brace that is appropriate for your injury and level of activity, and to wear it correctly to ensure maximum benefits.
What knee brace do doctors recommend?
The type of knee brace recommended by a doctor will depend on the specific injury or condition being treated. Some common types of knee braces that a doctor may recommend include:
Prophylactic knee brace: This type of knee brace is designed to prevent knee injuries during physical activity. It is often recommended for athletes who participate in high-impact sports.
Functional knee brace: This type of knee brace is designed to support the knee following an injury or surgery. It can help to stabilize the knee and reduce pain and swelling.
Rehabilitative knee brace: This type of knee brace is designed to help the knee heal following an injury or surgery. It can help to reduce stress on the knee and improve mobility.
Unloader knee brace: This type of knee brace is designed to reduce pain and improve function in people with knee osteoarthritis.
Hinged knee brace: This type of knee brace is designed to provide extra support and stability for the knee following an injury or surgery.
It is important to note that the type of knee brace recommended by a doctor will depend on the specific injury or condition, as well as the individual's level of activity and type of sport they participate in. A doctor or physical therapist can help determine the best type of knee brace for a specific individual.
Ending
Now, in the end, do you find the essential tips and best knee brace for hiking? For an injured leg, it is a must to have perfect knee support. That's okay to hike without braces. But as your knee needs to deal with stress during hiking, having a good brace can take you safe zone in this term.
So, choose your desired hiking braces according to the buying guides and know the own attributes of different braces on the above list. And also, don't forget to be concerned about the other facts.
We hope, we can hear a memorable and injury-free trip story from your next hike.