Probably you are thinking about a cool and overflowing hiking trip with your buddies. But can you ever think how crucial hiking can be because of a few silly mistakes? I think you don't want to make your hiking moments worst by getting knee injuries or won't expect any medical treatment instead of exploring the trail. Right? Well, then you need to deal with the best knee brace for hiking.
No matter how experienced you are, without proper protection and preparation, you can fall into bad situations at any time. As hiking is a leg game, how you will participate in the game if you got an injury to your knee or ankle? That's why you need to take care of your middle leg. Knee support is such a thing that can protect you from injury and ensure comfortable hiking.
Today, we arrive with a research base list from which you will find your perfect brace and guide to ensure your safer trip.
Related Topic: Best Ankle Brace for Hiking (Top 6)
Why Do You need to Wear Hiking Knee Brace?
In most cases, hikers compare their ability and safety with their strength. And they treat the brace like a silly thing. But strength and experience don't always favor. Sometimes a deprived gear can be done such a job that you never expect.
There present lots of reasons to put on hiking braces. For a hike, one needs a strong and supportive knee that can bear stress. Knee braces are such materials those work for reducing knee stress during activities and provide great and comfortable support. Those are very effective in saving you from unwanted injuries. Furthermore, they are budget-friendly and easy to bear.
You went on a trip without braces and backed up with knee pain? Braces are workable in that term too. These will give support to your leg, making easier movements and confirming quick recovery.
Now, didn't you see enough advantages to put them? I think you are positive.
Related Topic: Knee Brace Pros and Cons: For Hiking and Sports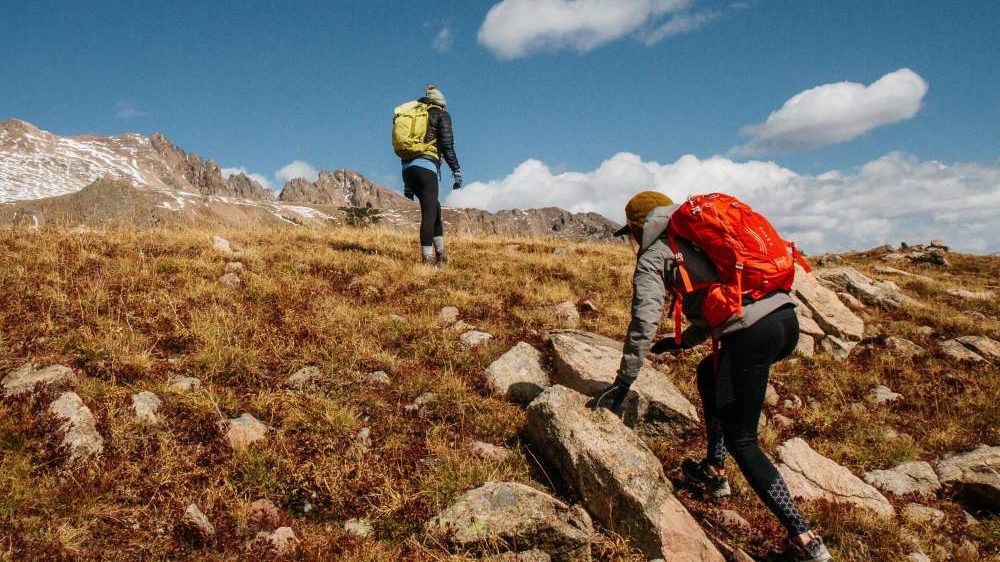 What to Consider When Choosing Hikers Knee Braces?
Before making the purchasing decision, it's vital to consider some facts for choosing a hiker's perfect knee support. So, what things you should mainly look for? Well, let's see them below.
Choosing the Style
The primary fact to select a knee brace is its style. As it comes with several styles, you need to choose your desired style.
Among them, the main two styles are slip-on and wrap-around.
Slip-on is the style where you will get excellent support and traction without sliding down. But this one isn't adjustable. Those are ideal if you are looking for a long hike or trekking as they provide super stability.
Related Topic: Hiking vs Trekking: Differences and More
Another side, the wrap-around style is warping around your knee. It provides you with comfort as well as support. But it doesn't offer you such support that you will get in the slip-on. And generally, it is ideal for a light hike.
So, according to your needs select the style of braces.
Design Selecting
Like styles, those braces have come with several designs with several facilities. Let's talk about some designs to take an easy decision.
First, if we are talking about the support, then it builds with a wrap around the knee and has an adjustable feature. The strap is another one where those are wrapped below your knee.
For sleeves, those are lightweight and have slipped over your leg. Those provide you comfort but don't offer adjustable options.
Hinges are the type of design where you will find leg support with easier movements. For stabilizer design, you will get steel springs on both sides offering comfort and support.
And in terms of the open and closed patella, you will get the option of easy movement, compression, and good support.
So, the design that will be suited for you should be fixed before your buy.
Fitted Size
The fact you should care about most is a perfect size. You will find a variety of sizes for braces. Suppose, you selected one considering all the needy facts but when you wear then noticed it doesn't fit your leg. Then what's the mean to use? So, keep attention to choosing the right size. Easily fitted one can surely be capable to give extra support and protection during your activity. But that doesn't mean getting them over-fitted. In terms of a tight fit, it will protest your walking on the trails. So, go for the size that will suit you most.
Quality Materials
Before making any conclusion, ensure its material quality. The material can put a great impact on many terms. Irritation, sweating, dirt, etc can happen if you aren't aware of the materials.
Most of the braces are made with neoprene and sturdy materials. And those offer you good strength and keep free from allergenic. In hot weather, make sure your braces are lightweight and have a breathable facility. Neoprene is such a material that is ideal for summer having durable and easy cleaning options.
So, considering your situation, choose quality and effective material-bearing hiking braces.
Ensure Adjustable Option
Though there exist both adjustable and nonadjustable excellent knee braces, it is good to have an adjustable facility.
An adjustable strap will make your activity easier. You don't need to pull the brace up or down during your walking. During hiking, because doing uphill, downhill, jumping, and so on steps, it is normal to lose the braces. So, if you have an adjustability option, then it will fit well with your knee. Also, you can tighten or filter it as your wish.
So, ensuring this option can offer you extra benefits on the spot.
Comfortable Wear
Wearing an uncomfortable brace means falling into another problem by solving one problem. So, it is a must to ensure satisfactory wear.
To get that benefit, you need to look for the material and quality of the braces. Some are good for summer and some are for winter. So, search for features that will offer you great pleasure in each situation. Lightweight is another feature that can feel you better.
So, finally, ensure all of those facts with comfortable wearing too.
Top 10 Best Knee Braces for Hiking
In the crowd of various, braces which are best for hiking are really tough things. In this section, keeping in mind the key features, we picked the top ten.
1. POWERLIX Knee Compression Sleeve: Best Overall
Advanced design and smart features make the POWERLIX Compression Sleeve a popular user choice for their hiking partner.
Overview
That long-sleeve brace is designed with compression to provide you with super protection and stability. Ensuring your knee joint's safety will give you good support and permission to play activities smoothly.
The design section, it's a premium in the world. The fabric materials work for a super smooth and comfortable experience in any activity. During trail exploring, you never feel irritated wearing it. And it will maintain the joint temp. Another good feature is the knitted design that will easily fit with your leg joints. 
Good to hear that the item builds with breathability and excellent absorption capability. That means on the summer trip you stay okay from sweating legs. Don't worry about odor as it has the power to eliminate.
For anti-slip, it has double silicone for offering an effective grip in times of any hard activity. So, you will get risk-free trail walking or jumping without slipping down. The braces will also keep safe your muscles and knee from injury by taking extra stress.
It doesn't down in terms of look and color as it offers a variety of colors and sizes with a pretty look. This one is quite lightweight with its 2.4 Ounces. Also in the price segment, it won't upset you.
So, it will be suited for those who are interested in a long hike and searing a supportive and peaceful brace on their journey.
2. Bracoo Compression Knee Support Brace: Best Value
Bracoo KS10 introduces the hikers with open-patella braces having adjustable and knee support character.
Overview
KS10 is made with neoprene material where you will get super comfortable and also keep your distance to be irritated. As it has breathable way, it will feel good with sweating or skin irritation.
That model is mainly open-patella. For that, you can able to keep your kneecap in its right position and ensure your activities are easier. As well as confirmed the stability and safety. And also have the desired adjustable feature. The three straps will keep your wear fit all day.
The compression design works for better blood circulation to gift healthy knees during trail activities. As it is designed especially for knee support, it is very effective to keep away from ACL, LCL, and so on ligament problems. And you will get great stability without disturbing your leg.
This hiking knee brace comes in three different colors. The weight measurement is about 3.36 Ounces. And the pleasing thing is, it offers a budget-friendly price.
So, why do you need to have that? If you need a cheap and quality brace to prevent your knee from serious injuries then you can try it.
3. Cho-Pat Dual Action Knee Strap: Our Pick
Cho-Pat Dual Action is one of the best knee support for hiking providing pain-free knees and an excellent wearing experience.
Overview
Warm and comfortable wear presents in this knee strap as it has a neoprene. The fabric is breathable too. For closure, it is a hook and loop.
That brace option offers one of the adjustable features. And it will make you easy and fit to wear. Also, you can use it both in and out of the pant. So, on the trail, you don't feel like putting anything on your leg without any unfit or uneasy experience.
Searching for protection? Don't take stress, it is made with ultra mobility and support on the injury points. Below or up of the kneecap, whatever you will search for support, you will get it. Keeping your leg cap in a fixed position will protect you from unwanted movements or injury.
Having the patented technology, it can so much capable of downhill walking, PCL, Patellar tendonitis, etc preventing limitless movement.
Cho-Pat enters the market offering different sizes in black and tan colors. And lastly, it holds only 3.2 Ounces.
So, if you want a smart hiking knee strap with essential specifications that can capable to protect you from minor and medium pain during your hike. Then, the mentioned one will be ideal for you.
4. IPOW 2 Pack Knee Pain Relief Brace: Best Quality
IPOW 2 Pack brace is a fantastic option to protect your knee from hurting on hiking just by spending a thin budget.
Overview
First of all, it comes with a soft and comfortable design using quality fabric. The fabric is also breathable as usual. Its ventilation and smooth material will never feel you uncomfortable. And can able to absorb quickly. That is also free from any skin itching for a long time wearing.
For children to adults, the brace is made of one size. And it is usable for 10 to 18 inches sizes. Never face any issue in flexibility or fitting. Like quality hiking support, it has adjustable points. So, you can fit it as you need. And those strap works properly to hold in an exact area without losing. So, you will get an easy on and off-wearing facility.
And the main purpose, support, and stabilizer are also provided by it greatly. For leg protection, it is designed well. Any bad step on the knee will protect and prevent any other hiking steps. Especially in terms of jumping activities, it is much more effective to do its job. Those compression braces are workable too in terms of the injured knee. So, overall, it can be a great warrior to prevent joint injury during hard activities.
For color lovers, it offers 4 different options. And in the price section, you will definitely love it as the brand offers great value.
It will be perfect for those who are confused about their braces size and wants cost-friendly hiking braces.
5. CAMBIVO 2 Pack Knee Brace: Good for Up and Downhill
To save your knee from hurting on hiking, CAMBIVO 2 Pack can be a blast option for a brace.
Overview
If you are looking for its materials then it is mixed actually. Nylon, latex, and spandex are the materials used here. It is breathable as well as comfortable. So, sweating or any itching can't disturb you during your workout. The wearing is so simple for anyone.
Another pleasant thing is, because of the silicon it is super slip-resisting and provides you with a great grip. It is strapless. Wearing it, you can easily overcome downhill, jumping, or any sports task with safety.
Again, the compression design does the job of pressure vanishing and ensures good blood flow around the knee. Having it, secure and comfortable movements with stability will be got.
The most wanted part is its 3d knitting feature. It works to apply to strengthen pressure on your knee to provide extra support to the joints. And as a result, you will get a good balance on that spots and wouldn't face any wrong steps. Finally, you can keep yourself far from any knee problems with huge protection.
It has a lot of options if you look for color. The sizes are also many. You can see their manufacturing chart to be sure about your size. The product bears about 6.4 ounces. And lastly, the price is also handy for anyone.
So, our suggestion for this product will be for those who are searching for a compression hiking brace presenting essential features to protect their leg from hurting.
6. TechWare Pro Knee Brace: All Rounder
TechWare Pro is another open-patella hiker's brace having advanced features and performance.
Overview
The TechWare Pro builds with high-quality materials that are neoprene and silicon. The neoprene fabric is lightweight and comfortable. And that has the excellent ability to wick moisture. So you can get the option to say goodbye to your sweat. Another side, the silicon is worked for slip-resisting and will keep your brace in right place.
That brace has three straps and a compression design. The closure is as usual hook and loop type. Having compression can be an important job during the hike. Like, as better oxygen and blood flowing, and useful support for people who have had knee problems previously.
This hiking leg protection is manufactured with a patella design and can be able to take kneecaps securely. And the most exciting thing is, it has 4 stabilizers. To offer ultra balance with support to your knee, it will be one of the finest protectors for your outdoor activities. So you don't have to think about the injury as you have extra supportive knee braces.
TechWare brace gives you 4 for sizes. And those are fitted with 10-18 inches. In the color option, you will get the only one that is black. The packaged weight is about 5.28 Ounces. The price option, though is a little bit high but very reasonable compare to the quality.
So, will the item be perfect for you? Well, if are willing to get an all-rounder hiking brace at a reasonable cost, then I will say it is fitted with you.
7. IPOW 2 Pack Thickened and Wide Patella Knee Strap: Excellent Comfort
IPOW 2 Pack Thickened Pad is a good choice brace to protect and relieve your knee pain on hiking.
Overview
This is another pick from IPOW. Like the previous model, it is also made with well material and is quite lightweight. No worry about sweating because of its breathable ability. The fabric is comfortable enough to keep away from the irritating feeling.
And the most important is, it builds with an open-patella design and is adjustable too. The wide patella will confirm a tight holding knee during the exercise. This feature is also good for muscle building. Also, the design is easy to wear, and needn't tighten your straps more than once.
Its compression will benefit you in many terms. The compression is thickly padded. And that works for ultra comfort and protection. Because of its patella compression pad, it is capable of absorbing the socks by holding your knee perfectly. Again, keep the kneecap in its position. As well as, ensure your safety from involving injuries.
Related Topic: Compression Socks for Hiking
The brace is quite slip-resistant. In terms of a previous knee problem, it can be helpful by decreasing your pain. The design is ideal for providing proper support and making it danger-free.
Don't be confused about the size. It comes in only one size that can fit everyone. Four attractive colors offer at this time. And the cost is very much budget-saving.
So, why do you need them? If you are interested in two-pack hiking braces at a cheap price with good performance then I will recommend you that option.
8. Abco Tech Patella Knee Strap: Super Cheap
Abco Tech is a suitable option being an adjustable knee pain-preventing brace at a very thin price.
Overview
Design category, Abco is very simple but more workable. The nylon and neoprene fabric make it so durable along with comfortable. Those materials have breathability and quick moist wicking. The cleaning process is also quite easy. Being lightweight, won't make you feel like you wear something on the leg. And, the brace can stop slipping down.
The patella design is much more efficient for hiking activities. This brace is fully adjustable and can be fitted well in your leg. By wearing it, you will get ultra knee support. Those braces are suitable for uphill or downhill. And many people choose them as downhill hiking braces.
Even if you have leg pain, having that brace you can securely move on the trails. Support, pain remover, protector whatever you want for your knee, you will get all of them in here.
Because of one size, it is fitted for all. For the user, the manufacturer takes 3 options for color. And the most impressive thing is its price. It is one of the cheapest knee braces for hiking compared.
In verdict, for hikers with knee problems, this brace will be a perfect option at a very cheap price.
9. BLITZU Knee Compression Sleeve: Excellent for Downhill
BLITZU Knee brace is such one where it is presented with smart technology and quality design for awesome performance.
Overview
BLITZU is made with Silicone and quality materials that will be ready to offer so much benefit. It is a lightweight design. The product is breathable and also has the power to wick moisture fast. Another needy thing is it builds to protest with bacteria. Additionally, You can get the facility to wash those in a machine. Being durable, it can last long.
The item offers a compression sleeve that is 360 degrees. For that, you will get super stability and protection. To keep the blood and oxygen circulation well the design is perfect. The 4D knitted material ensures soft and comfortable wear. That compression option can provide risk-free movements with knee safety and is also useful to reduce hurt.
The slip-proof character is also given there. So, super grip and roll-free wearing will be confirmed by that. This brace has a patella stabilizer and four-way stretch to serve great support and pain relief. The reinforced patella works for keeping your knee in its position and ensures pain-free movements. Want a long hike? Just put them on your leg to support your journey safely and successfully. Ligaments or any type of knee condition will be one's good doctor to protect and prevent injuries.
Four different sizes and several color options you will find there. The weight of the package is about 5.68 Ounces. Want to hear about the cost? In a word, it is super affordable.
For persons who want cheap knee support offering quality features for their long-way hiking, it will be a suitable option.
10. Shock Doctor Hinged Knee Brace: Good for Injured Knee
Shock Doctor Hinged Brace is one of the best hiking knees with a premium design and premium performance on that list.
Overview
The design and build quality look pretty premium for that brace. The fabric is durable enough. Also, it offers softness and breathability with quick sweat absorption. Don't need to fear bad odors and bacteria. It is odorless and anti-bacterial.
The compression provides easier and safer movement as usual. And it stays in its place. Which can do the supporting job for both left and right. The closure of the brace is hook and loop type. It comes with two hinges that increase knee support as well as good performance on the trails. Also, it bears side stabilizers to serve you super protection.
You don't need to worry about sliding down or slipping as it has a non-slip feature. That brace can useful in hard outdoor or sports activities. Especially, if you want to perform downhill walking, those will be very much effective even if you have previous knee pain. The meniscus, ligament sprains, arthritis, etc issues are protected by it. In a word, it works good prevention from occurring knee-related problems and works as a pain reducer or recovery for a bad knee.
There are enough size options for all ages people. But in terms of color, it offers only black. And the last thing is, because of its premium the weight and cost are comparatively high.
Now, for whom it will choice able? If you have a bad knee and want a brace for both pain-reducing and support on your upcoming hike without caring about the price, then Shock Doctor is suited for you.
Additional Ways to Keep Knee Healthy While Hiking
Without braces, there are also some ways in which you can keep your leg pain-free and secure. So, what are those additional ones? Well, the explanation is given in this section.
Suitable Footwear
Previously I mentioned the importance of correct footwear in terms of safety and comfort. The perfect hiking boots or shoes will surely ensure your security steps in any touch conditions. And thus, you can free yourself from knee injuries and keep it healthy.
Related Topic: Best Hiking Boot for Plantar Fasciitis (Top 14)
Good Hiking Poles
Many hikers don't think any need to take hiking poles. But that is absolutely wrong. You never know how poles can protect you from the worst situations. A good hiking pole gives you super stability and ensures comfortable and pain-free steps. It also helps your walking to reduce your weight by taking it. So, if you hike with a loaded backpack, then they could be beneficial for you. Lastly, those poles are a great thing to provide stability as well as ankle protection.
By Knee Exercise
Doing knee exercises have a great impact on keeping the knee safe during hiking. There are many exercises that you may try. Like, as wall squats, hamstring, calf stretching, and so on. Those will increase the strength, support, and stability of this area. As a result, your leg will be prepared enough to win the mountain successfully.
Related Topic: Hikers Knee Exercises (Before and After)
By Taking Supplements
If you are opposed to those ways then supplements can be a lottery option for you. There are presented some and they are capable of preventing pain or inflammation. Those have no side effects and are also not proven in their job properly. Omega-3, Chondroitin, etc are the things you can try to boost your hiking if you are unwilling to do other things.
More Facts You Should Know About Hiking Knee Brace
How Do Maintain Braces for Long Uses?
Without proper care, nothing can be stayed for long. Hiking braces face errors in many ways and it's normal. But you need to do some tasks to make it useable for a long. Keep it clean after use by washing it with soaps or other cleansing objects. Be careful about being worn or torn by collision with bad objects. If it has metal materials then take care of it too. In terms of hinges or straps, keep attention to their damage.
Is Boot Impact on Hiking for Knee Protection?
According to my previous word, I again say boots or shoes have a vital impact on your safe hiking. By putting the right one, you can ensure your stability, secure feet, ankle support, knee support, and so on things. So, why do you want to be concerned about them? But all boots aren't good for hiking. You need to choose the ideal one.
Related Topic: Are Duck Boots Good for Hiking?
Can I Hike with A Bad Knee?
With previous hurt or a bad knee, it is possible to hike safely. Skipping fear, you just deal with some facts to win. Many hiking braces have the power to reduce pain or give protection for knee problems. A shock Doctor brace is ideal in that way.
What Should I Do for Leg Pain after Hiking?
Due to born leg structure or doing mistakes, you can purchase leg injuries or pain. After the hike, you should follow some tasks to recover from the pain. Light leg exercises, ice rubbing, therapy or doctor treatment, etc should do depending on the conditions.
Related Topic: Achilles Pain After Hiking: Reasons and Solution
Can I Wear the Brace for A Long Walk?
If you have any knee issues or doctor recommendations then you can wear them all day. Practically, compression sleeve braces are good for long walking to protect your leg. But if you choose the wrong brace or don't wear it properly then you may face trouble.
Can I Use My Brace over My Pants?
Yes, you can, but it is not good practice to wear them over your pant. It makes a chance for the brace not to stay in place. And for that reason, you can't get the benefit from it. But if you need to wear it this way, then you need those pants where the materials are thinner like yoga pants, skinny jeans, sports pants, and so on.
Ending
Now, in the end, do you find the essential tips and best knee brace for hiking? For an injured leg, it is a must to have perfect knee support. That's okay to hike without braces. But as your knee needs to deal with stress during hiking, having a good brace can take you safe zone in this term.
So, choose your desired hiking braces according to the buying guides and know the own attributes of different braces on the above list. And also, don't forget to be concerned about the other facts.
We hope, we can hear a memorable and injury-free trip story from your next hike.
As an Amazon Associate, we earn from qualifying purchase
Read more